A little girl with big plans for her life can't wait to join the Adorers' Junior Associates, a group of 28 young people that Sr. Cecilia Hellmann helped create three years ago. She is also determined to become an Adorer, and who knows what else. She is thinking about asking Pope Francis why women can't be bishops or a pope.
Diana "DeeDee" Barragan, who recently turned nine, is the daughter of Adorer Associate Lucia Barragan, who works with Sr. Cecilia in Hispanic ministry in the Belleville, Ill., diocese, and Adorer Associate candidate Eduardo Barragan. Her two older brothers, Eddie and Matthew, are Junior Associates.
A recent note to Sr. Cecilia demonstrates her enthusiasm.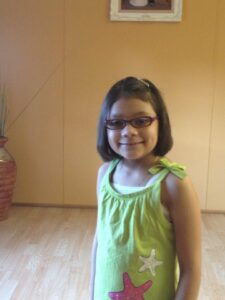 "Can you write to me in cursive now please," she asked. "Thank you for your lovely notes to me. I can't wait. Only 2 more years until I'm a Jr. Associate. Take care!
Love, tiny Sr. Deedee"
In a postscript, she wrote: "Sis. What do you think about asking the pope why women can't be a bishop or pope?  Tell me here."
Sr. Cecilia, coordinator of Hispanic ministry in Belleville, said that ASCs are called through their charism to encourage young people to live with love and be peacemakers in their world.
When sisters were more common in the classroom and parish ministry, they had more opportunities to have friendships with young people. The Junior Associate meetings and newsletter is another way to accomplish that, she said.
"It's to encourage young people, and help them know about the mission of our community and to join in and be peacemakers," learning about the world and the work of the church," she said. "Of course it's about their own vocation in life, but not necessarily a religious vocation."
Deedee asked a year ago why she couldn't become a Junior Associate and join the other young people who are learning about ASC spirit and having a heart for others.
Members must have their parents' permission and agree to say the prayer for peace daily (if they forget, they have to say it twice the next day). They are expected to read the booklet, "Mining the Meaning of the Bible," and are encouraged to live a Christian life and mission of the church and to learn about the sisters.
"DeeDee is definitely planning to become a sister," Sr. Cecilia said. "She is focused on that. Fortunately, her mom and dad are not discouraging her. Her little brother yesterday accused her of wanting to be a saint."
Asked to explain DeeDee's yearnings at such a young age, Sr. Cecilia pauses a long time, and said, "Maybe grace.
"It's been a lovely experience. She came with her mom and has fallen in love with the sisters and what we do. … She also sings in the choir at church, and has said 'I like the feeling that God is smiling while I sing.'"
Sr. Cecilia said Junior Associates are telling their friends about the ASC community. Five already are in college.
"Who knows if a vocation will come of that?" she said. "It's about how to serve God where they are right now."