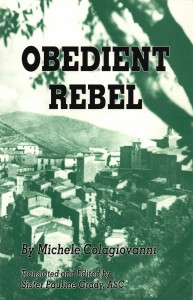 This book tells the story of St. Maria De Mattias, a woman known for her courage and commitment. This well-written narrative of the foundress of the international order of Catholic Sisters, the Adorers of the Blood of Christ, invites us to join a saint on her journey.
Written by Michele Colagiovanni, Translated and adapted from the Italian by Pauline Grady, ASC
© Copyright 1991 Pauline Grady, ASC. All rights reserved.
Excerpt
Two hundred years ago life in the mountains of central Italy was a rugged affair indeed. A youngster bom at the beginning of the nineteenth century in one of the villages nested in the Lepini Mountains southeast of Rome entered a world that was stony at every level of perception. Rough mountain terrain outside and tough, resilient ancestry within interacted as part of a socio-political order in disarray, convulsed by the struggle between dying feudalism and the modem world coming to birth. Most readers would prefer to leave the details to the historians. However, some grasp of the actual state of society is necessary to appreciate the real stature of Maria Di Mattia (later to be known as Maria De Mattias), bom February 4, 1805, in Vallecorsa, Italy.