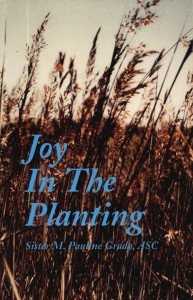 This book tells the story of Sister Clementine Zerr, a woman who was central to the foundation of the U.S. Adorers of the Blood of Christ.
Written by Sister M. Pauline Grady, ASC
(c) 1994
Excerpt
"But I don't want to stay home from church, Grosmutter." Lips puckered and arms akimbo, seven-year-old Barbara Zerr insisted: "It's my birthday, and it's the feast of the Immaculate Conception." Barbara's lips formed the big words carefully. She had been told over and over that her birthday was very special, falling on the feast of the Blessed Virgin Mary, who was never touched by sin, and that in her honor all Catholics go to Mass on this day. She fixed her brown eyes hopefully on her grandmother. "Mother has to stay in bed because she is sick, but I can go with you. I already peeled the potatoes, and Aunt Barbara sent us some custard pie. I put the chicken in the oven, just like Mama told me." The little girl seemed to have the situation under control. It was Tuesday, so the housemaid who came on Tuesdays to clean would be there in case Mamma needed anything. Grandmother Zerr smiled.