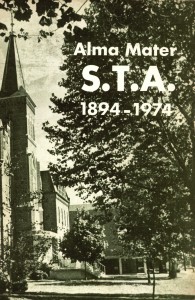 Sister Clementine Zerr had come to East St. Louis looking for a place to establish a central house. Since 1889, she had had sisters at St. Henry's and St. Mary's, two of East St. Louis' three parishes, but she needed a place to carry out her congregation's distinctive task of educating young girls in boarding schools and she needed a central house for the sisters, easily accessible by train.
Sister Clementine was one of a group of 49 sisters who, in 1873, had followed their congregation to Illinois, the last of the exiles from Gurtweil in Baden, fleeing from persecution of the Catholic sisterhoods under Bismarck. Twenty years later, her struggling young foundation at Ruma, Illinois, 5 miles from the nearest railway, numbered more than 100 sisters and novices, more than half of them American-born. The central house they now sought to establish in East St. Louis would be St. Teresa Academy, destined to have an 80-year history of civic and religious influence.
Written by Sister Mary Pauline Grady, ASC
©1974 by Sister Mary Pauline Grady, ASC. All rights reserved.
Excerpt
Little by little the attendance roster grew, and hired hand Julius Brugger set out faithfully each morning to collect his eight day-student passengers, driving the good horse Heine on the unpaved roads of Winstanley Park to pick up students in the morning and return them home in the evening. Some of the boarders were actually East St. Louisans who preferred to stay at school during the week. Mrs. Anna Carroll Keough, Class of 1905, recalls details of the simple and industrious life at STA in the early years.