By Sister Therese Wetta, ASC Director of Mission Effectiveness at Newman
The new semester began January 10 and with it the arrival of several new co-workers and, of course, COVID. But in-person classes with masks and distancing and some hybrid classes are enabling everyone to begin anew.
Featuring a student is something I hope to do each month. I begin with a young woman who definitely reflects the fruits of our ASC attention to women and our support of their academic education and personal growth.
Kelly Mai, an ASC Scholar senior at Newman, is an outstanding young woman who is making a difference and will make a difference in society. The ASC Scholarship program is a memorial to our five ASC Martyrs of Charity. The ASC Scholars are selected after personal interviews and they are required to do 45 hours of service each semester with not-for-profits.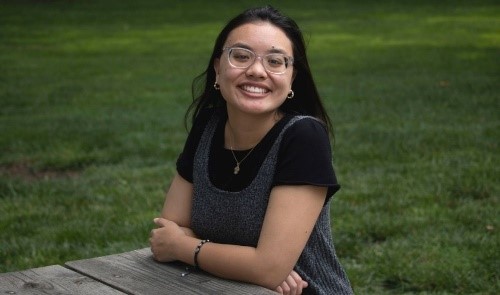 Feature photo credit to Shayla Mai
Kelly is a first-generation college student. She is majoring in psychology and criminal justice. Kelly has a passion for the people without a home except for the streets, a passion reflected in her senior ASC capstone project that must be "transformational" for those being served.
A member of a volunteer group that meets with and serves a noon meal each Sunday to those living on the streets, Kelly realized their need for socks. Her capstone project was to gather a minimum of 100 pairs of socks to be distributed to these persons when they gathered for the Sunday meal. Kelly sought solicitations of socks and money for socks; she engaged others to help her achieve the goal. Her leadership in getting others involved was also transformational for them.
Kelly is a member of CAB (Campus Activity Board), the Asian Student Association and the Multicultural Leadership Organization. She is active in Campus Ministry and has participated in several service projects during breaks in the academic calendar. She is also a student graphic designer for Newman's University Relations department. Kelly notes,
"All my experiences at Newman have been new and so transformative. I've gotten to embrace myself as a first-generation college student and I've gotten to learn about myself as a Vietnamese-American."
This academic year Kelly also was honored as the Newman student to receive the KICF-Maud Wyatt Recognition Scholarship, having been nominated by Dr. Jagger, President of Newman. To qualify, students must have a 3.5GPA, demonstrate excellence in character and integrity and show a commitment to the value of a private college education.
Kelly's response to this award is revealing of her character and values.
"Looking back, I am so humbled," she said. "I kept thinking, 'I don't deserve this.' Coming from a low-income family, it just made me think how lucky and grateful I am to be here. I've come so far. It's weird to take it in that I'm now at a Catholic University. I'm so grateful. I know for sure that I wouldn't have done this without my family, friends, and especially God."