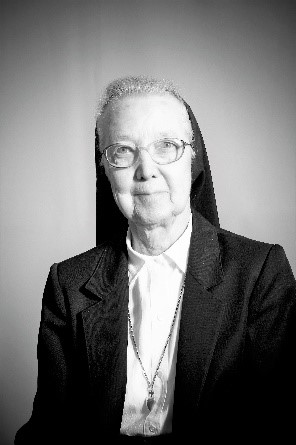 Sister Carmelita Blick, ASC entered into eternal life, on January 27, 2022, at 8: 55 a.m. in Caritas Center, in Wichita, Kansas. She was 100 years old and a professed Adorer of the Blood of Christ for ­­­­83 years.
Sister Carmelita was born on October 9, 1921, in Hutchison, KS. She was the first child of John Nicholas and Grace (Kennedy) Blick and was named Benitia after a paternal aunt who was an Adorer of the Blood of Christ.
Following her freshman year, she entered the community on August 30, 1936 and received the name Carmelita as a novice. She professed first vows on August 10, 1938 and final vows on July 1, 1943.
Sister Carmelita's entrance into the ASC community meant joining her three aunts, Sisters Benitia, Alicia, and Emma, sisters of her father. Subsequently, her two young sisters, Mary Ann (Sister Joan) and Deolores (Sister Noella) entered the Adorers along with two maternal cousins, Winifred Miller (Sister Vivian) and Patricia Roths (Sister Tarcisia).
Sister Carmelita ministered in elementary schools in Ness City, Bushton, Marienthal, Offerle, and Kinsley, KS. During the summers, she taught vacation schools and continued her education at St Mary's College in Leavenworth, KS graduating with a degree in math in 1954.
Graduate studies in math at St Louis University and theology at Marquette University prepared Sister Carmelita for her subsequent ministry of teaching on the secondary level for the next quarter of a century. Sister ministered at Aquinas High School in David City, NE and in Wichita at Sacred Heart Academy, Madonna High School and Bishop Carroll High School in the religion and theology departments. She simultaneously served as director of Junior Sisters from 1958 to 1961.
Sister Carmelita was preceded in death by her parents, John and Grace, her sister, Sister Joan and brothers John, Maurus, Roy, and Fred, her three Adorer Blick aunts, Sister Alicia, Sister Benitia, and Sister Emma, and a cousin, Sister Vivian Miller, ASC. She is survived by her sister, Sister Noella, her brother, Tom, numerous nieces and nephews, and Sister Tarcisio Roths, ASC, a cousin.
Sister Carmelita will be welcomed home to the Wichita Center on January 31 with a Wake Service at 7:00 p.m. The Mass of Christian Burial will be celebrated on February 1 at 10:30 a.m. with Fr Tom Welk, as presider and homilist.