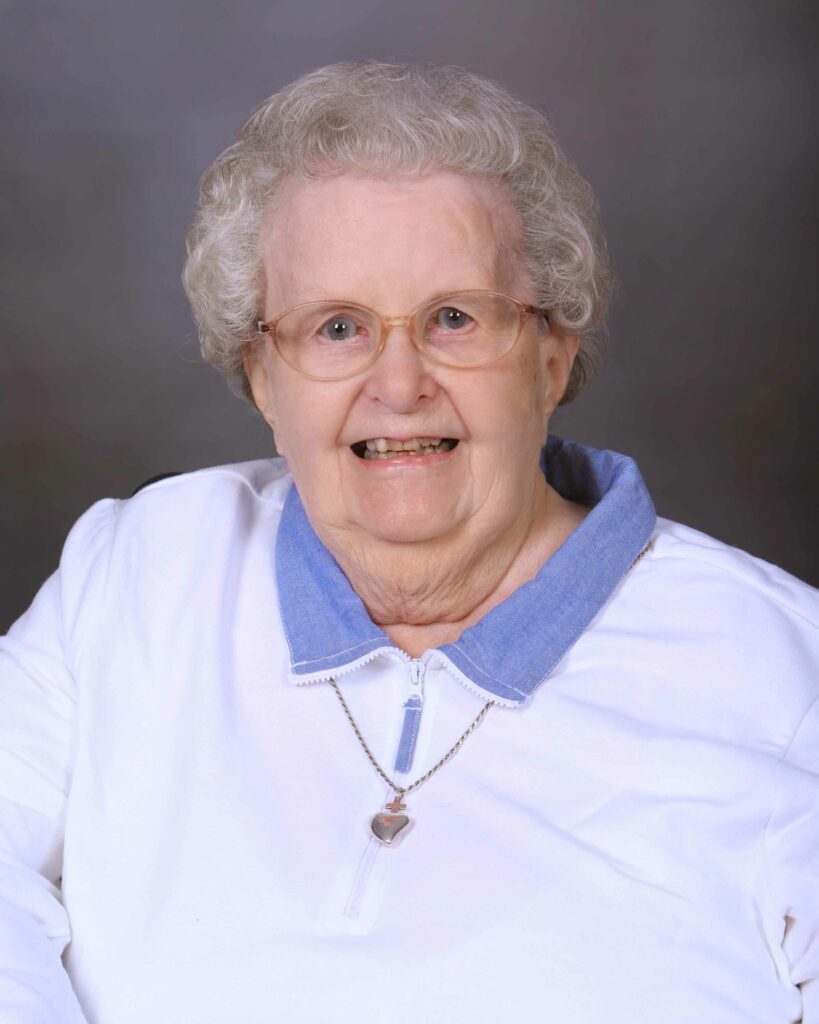 Sister Cleta Marie Reineberg, ASC, of the Adorers of the Blood of Christ, died peacefully at 6:50 a.m., EST, on Saturday, February 5, 2022, at St. Anne's Retirement Community in Columbia, PA. She was 96 years old and had been professed for 76 years.
Sister Cleta Marie was born in York, PA. on November 8, 1925 to Samuel Cletus and Mary (Bievenour) Reineberg and given the baptismal name Margaret. She made her first profession on Aug. 12, 1945 and her final vows on Aug. 12, 1950.
She earned her bachelor's degree in Education in 1964 and her master's in Education Administration and Supervision in 1972, both from Duquesne University in Pittsburgh, PA. She was certified in Elementary Administration in the state of Illinois and the Commonwealth of Pennsylvania. She received her certificate in Religious Education from the Diocese of Harrisburg in 1974.
Sister Cleta Marie served 50 years in Elementary Education and several at the Secondary level. She taught in Pennsylvania at St. Mary in Steelton, Sacred Heart in McKeesport, St. John in Enhaut, Seven Sorrows in Middleton, Sacred Heart in Lewistown, and West End Consolidation in Johnstown; in Indiana at Immaculate Conception in East Chicago; in North Carolina at St. Francis in Lumberton, and St. Raphael in Greenville; in Illinois at Assumption and St. Jerome, both in Chicago; in Missouri at St. Joseph in St. Louis.
She served as principal at St. Mary in Steelton, PA, St. Francis in Lumberton, NC and Precious Blood in Rochester, NY.
On the secondary level, she taught Religion and English at St. Joseph Academy in Columbia, PA. and later served as principal of the Academy.
She engaged in Community Service as Local Coordinator of the Provincial Center in Columbia, PA. and then as Associate Co-Director at St. Joseph Convent in Columbia.
She is survived by her ASC community, including her cousin, Sister Mary Clare Reineberg, ASC, and by nieces and nephews.
She was preceded in death by her parents, her brothers James (Mathilda), and George (Mary) Reineberg; her sisters Joan (Deacon Ralph) Runkle, Doris Reineberg, who died at age four and an infant who died at birth.
The viewing of the body will be at 9:30 a.m. on Wednesday, Feb. 9, 2022, followed by the liturgy at 10:30 at St. Peter Catholic Church in Columbia, PA. The pastor, Father Augustine Joseph MSFS, will preside. Burial will follow the Mass.