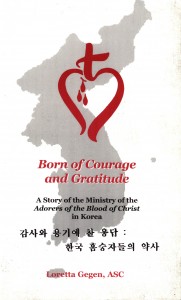 In the 1960s, many more young Korean women were applying for membership in religious communities than the convents of Korea could accept. It grieved the bishop to see the Church deprived of potential religious women who were so badly needed in the various ministries for God's suffering people. He asked if the Adorers would accept Korean women into their community if he made the option available to them. This is the story of our answer.
Written by Sister Loretta Gegen, ASC
Excerpt
"Clap your hands all you peoples, sing unto God with a voice of jubilation." When Maria De Mattias prayed those words, she had no idea that she would have daughters on six continents. When the pioneer Adorers in the United States prayed those words, they had no idea that among them would be those who would take their dream of "that beautiful order of things" to other continents and other peoples.