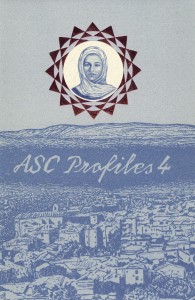 Some people's lives resonate for others. In the history of the Adorers, Catherine Pavoni is one such person. This book paints her portrait.
Admirers, and perhaps also critics, want to know more about her in order to understand her influence. Considered one of the most charismatic leaders in Adorers history, she was a strong woman in a very demanding time.
Written by Antonietta Maraone, ASC. English edition translated by Bertha Fischer, ASC, and edited by Loretta Gegen, ASC, Angelita Myerscough, ASC, and Emmanuel Palus, ASC.
© 1999 International Center of Spirituality – Adorers of the Blood of Christ
Profile Excerpt
After her first Communion she felt the need of a deeper personal relationship with the Lord. Very soon there grew in her an attraction to consecrated life in an institute engaged in the religious education of women and girls. On a visit to Rome with her brothers she had the good fortune of meeting Maria De Mattias at the community of Adorers at the Hospice of San Luigi.
While her brothers took care of their business in the capital, Catherine was able to speak with the holy foundress. Their meeting lasted about two hours and left an indelible impression on the heart of the young lady from Marino. She seemed to recognize in Maria "a noble soul", as she testified in the process for the foundress' beatification some forty years later. This visit made a deep impression that marked for Catherine the beginning of a new phase in her life journey.