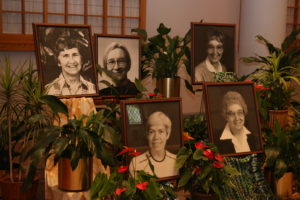 Saturday, October 21 was crisp and overcast as I drove on the parking lot at our Center in Ruma, Illinois.  Several loyal, dedicated co-workers were already on duty to direct the traffic, and others were working in the house. I took some time to talk to Joe to ask if he was working with us 25 years ago. He reminded me of that bleak, awful day in December 1992 when many of us gathered in a cavernous, echoing hanger at Lambert Airport in St. Louis to receive the bodies of Agnes, Shirley, and Kathleen, our Sisters who had been killed in Liberia on Oct. 23.  In contrast, this Saturday was a gossamer day of finely spun webs collecting dew and drizzle. Then the sun broke through and the gossamer sparkled with liquid diamonds.
This weekend, over 300 people came to Ruma to celebrate the lives and legacies of Agnes Mueller, Shirley Kolmer, Kathleen McGuire, Joel Kolmer and Barbara Ann Muttra, our Martyrs of Charity killed in Liberia on Oct. 21 and 23, 1992.  We always remember the thousands of Liberians who died in the civil war; our blood mingles with theirs. Our lives are woven together.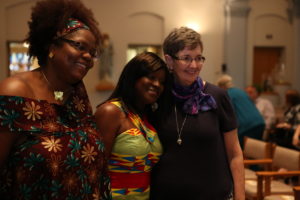 The world-wide web of relationships and love spun over the years of our association with the Liberian people was strong and shining gossamer on Saturday. Friends and family literally came from all over the globe to celebrate with us. Josephine Wernah, our associate from Liberia, chatted with family members of the Sisters killed in her country. The Liberian women who were once members of the community are still members in different ways. Their vibrantly colored Liberian dress and head wraps couldn't be missed in the crowd.
It was a day of remembering, celebrating, and reunion. More importantly, it was a day to rededicate ourselves to living the charism, legacy, and vision of the Congregation. Barbara Ann, Agnes, Joel, Shirley, and Kathleen are strong strands in the web that weaves us all together. The mission lives. Live the mission.
---