Only six weeks ago, our dear Sister and friend, Renee Kirmer, ASC died suddenly.
While we grow accustomed to death as we get older, Sister Renee's passing was particularly difficult and shocking as she was active at 81 with so much life and so much still to give. We expected her to keep going. Eighty-one is the new 61, right?
Our colleague, Miranda Caulkins, interviewed Sister Renee this past summer in Wichita. We recall that interview in Renee's memory today, when Christians mark All Souls Day, and people throughout Mexico commemorate the Day of the Dead, with little altars and offerings of the dead's favorite foods and flowers.
We think Renee — a longtime volunteer with Botanica, Community Gardens in Wichita, Kansas — would like the flower part of marking Day of the Dead.
Here's what she told Miranda in her interview this summer:
"About 20 years ago, while I was pastoral associate at Cathedral of the Immaculate Conception, Wichita, I felt a need for a relaxing activity. Volunteering for special events at Botanica provided that in a beautiful setting.

"Volunteering at the Gardens is definitely in keeping with our spirituality. St. Maria de Mattias, our foundress, stressed we are to pray and work for the restoration 'of that beautiful order of things.' Where else will you find such beautiful order as in the Gardens? And, of course, our Land Ethic statement calls us to honor and reverence creation."
Sister Renee shared in that conversation with Miranda that she wasn't absolutely sure, at least initially, that being a sister was the right path for her. She recalled that when she was 21, each of her closest friends got married, one by one, and she knew she had to pray about what she should do with her life. She worried that being a sister meant she would never play softball or wear blue jeans again. But 18 months after she had begun thoughtful prayer about her future, she was on her way to the Adorers' motherhouse in Wichita. She never looked back.
---
"When I made first vows, in my heart, I knew they were final vows," she said.
She had a long career with the Adorers, initially working with high school girls who thought they wanted to be Sisters. She taught high school for eight years. She worked at Newman University as director of admissions and records. She served two terms on the Adorer community's Leadership Team, followed by 25 years of pastoral work at parishes in Wichita and Claflin, Kan. Near the end of her life, she worked in the Adorers' business office and as a volunteer at Botanica.
Her work at Botanica was a natural fit for this Adorer.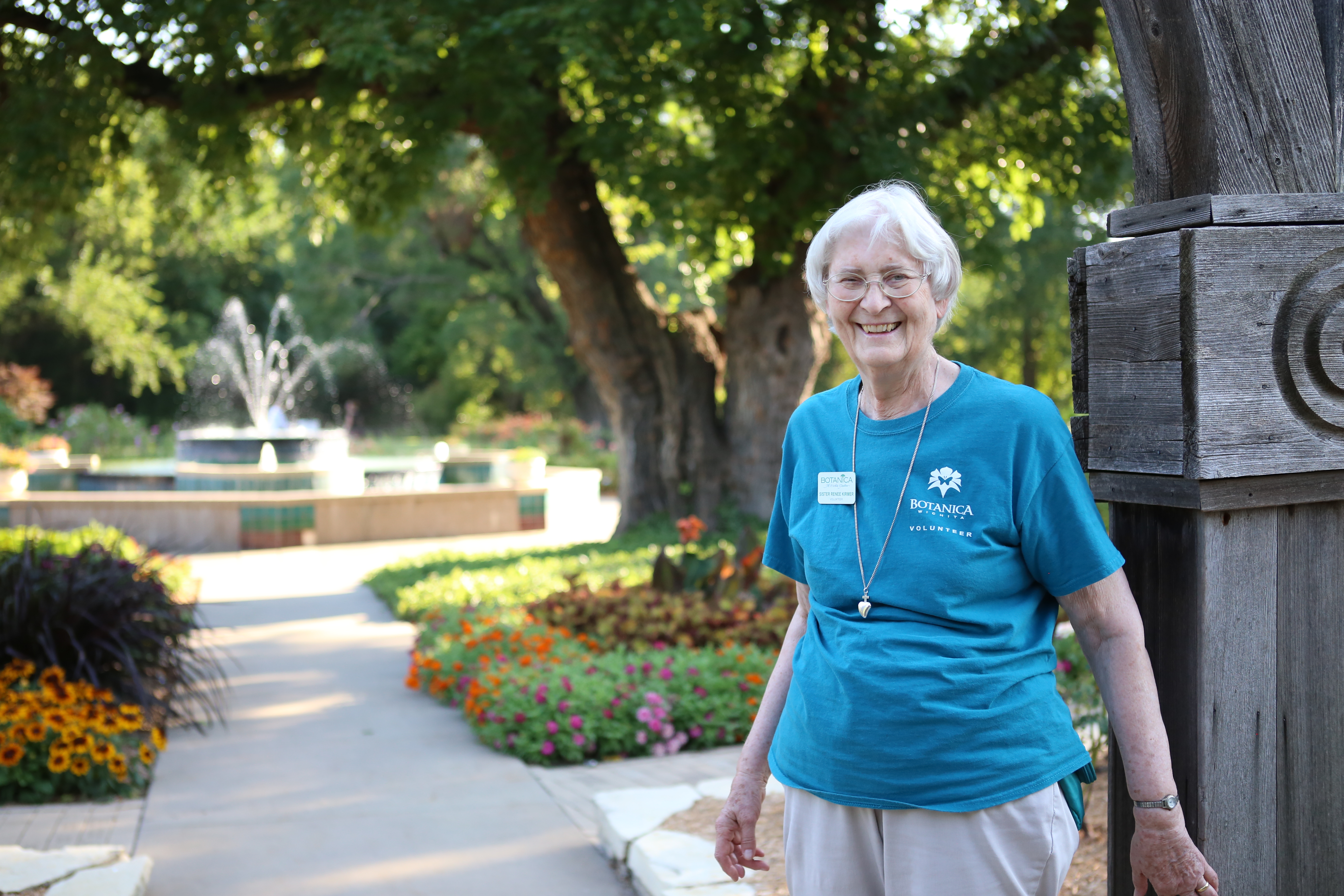 "Nature draws me to God," she said. "It's like a way for reunion with God. The white clouds have a way of bringing God 'out of the heavens,' so to speak. Isaiah says 'come to the water.' Jesus tells us if we are one with Him, we will never thirst. Oh, there are myriad ways that nature brings me to God."
She was an avid recycler for 40 years and a strong advocate for conservation of water – especially in dry Kansas – and protection of the environment in general.
The Adorers' leader, Sister Barbara Hudock, ASC, wrote in the days following Sister Renee's death that her passing reminds us not to take life — or the people who make up our life — for granted. She went on to say that in Renee's memory, we might look around us and appreciate those we have with us.
Sister Renee and all the souls who have gone before us, pray for us. Help us to seize life and appreciate those earthly souls we still have among us.
Amen.