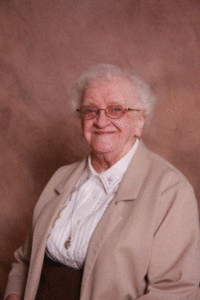 Sister Teresita Kern, ASC, died Friday, Oct. 13, 2017 at the Ruma Center, Ruma, Ill. She was 93 and had been a professed member of the Adorers of the Blood of Christ for 76 years.
Sister Teresita was born on June 5, 1924 in Red Bud, Illinois, one of eight children of Christian and Helen (Kelly) Kern. She made her first profession on July 1, 1941 and her final vows on July 1, 1946.
She was a member of the Dietary Managers Association and was certified in food service supervision and sanitation.
She spent 60 years in the industry, first as assistant cook, head cook and housekeeper, then later as food service manager.
She started as a housekeeper at convents in Waterloo, Murphysboro, and O'Fallon, all in Illinois, and Vienna, Mo.
Later, in Illinois, she served at St. Teresa Academy in East St. Louis; the Ruma Center; the King's House Retreat Center in Belleville; Weier Nursing Home in Belleville; St. Ann Healthcare Center in Chester; Clementine Residence, formerly a home for retired ASC sisters in Red Bud; Loretto Home and Catholic Children's Home, both in Alton.
She also managed dietary services at three Illinois hospitals that were then sponsored by the former Ruma Province, namely St. Joseph Memorial in Murphysboro, St. Clement (now Red Bud Regional) Hospital in Red Bud, and St. Vincent (now Taylorville) Memorial Hospital in Taylorville.
She supervised the kitchen at St. John Cantius Seminary in St. Louis and at De Mattias Hall, the Adorers' House of Studies on the campus of Saint Louis University.
She enjoyed friends and family, prayer life, music, candle-making and bingo.
Even after retiring to the Ruma Center in June 2003, she helped in the kitchen, and cross-stitched quilt blocks. Her spirit of joy and friendly smile persisted till the end.
Sister Teresita is survived by Sister Lucille Kern, ASC, nieces, nephews, great nieces, great nephews, cousins and the ASC community.
She was preceded in death by her parents, her brothers Leo (Erna), Joseph (Cora), Simon (Mary Ellen), and James, who died in infancy; and her sisters Helen (Clem) Schlotman and Sister Wilfreda Kern, ASC, as well as several nephews and a niece.
Visitation begins at 4 p.m. in the Ruma Center Chapel on Monday, Oct. 16, 2017, with a prayer service at 7 p.m. The funeral Mass will be celebrated in the chapel at 10:30 a.m. on Tuesday, Oct. 17, 2017. Burial will follow in the convent cemetery.
---
Donations in Sister Teresita's memory can be made online by clicking here, or by sending them to Adorers of the Blood of Christ, U.S. Region Mission Center, 4233 Sulphur Ave., St. Louis, Mo., 63109.