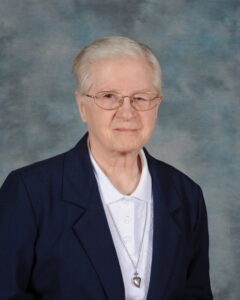 Sister Margaret Mary Smith, who had celebrated 65 years as a vowed member of the Adorers of the Blood of Christ this spring, died Monday, October 9, 2017. She was 85.
Sister, baptized Emma Gelesta, was born in Hanover, Pennsylvania, the eighth of 11 children of Maurice and Evelyn (Adams) Smith.
In 1950, at the age of 18, she entered the Adorers of the Blood of Christ at St. Joseph Convent, the former Columbia Province Motherhouse. She entered the novitiate on Aug. 12, 1951, made first vows a year later, and final vows on Aug. 15, 1957.
She studied at the Precious Blood Teacher Training Institute at the motherhouse, received certification in food service management at Saint Louis University, studied at Alvernia College in Reading, Pennsylvania, and was certified in dietary administration for food service managers from the Catholic Hospital Association. She also received a nurse's aide training certificate from St. Anne's Home, Columbia, Pennsylvania.
She taught kindergarten from 1953 to 1955 at St. Francis School in Lumberton, North Carolina; cooked and was a substitute teacher at St. Teresa School in Albany, Georgia in 1973-74; taught kindergarten at St. Jerome School in Chicago in 1976-77; and taught second grade at Holy Trinity School in East Chicago, Indiana in 1977-78 and at St. Rochus in Johnstown, Pennsylvania in 1978-79.
She cared for children with HIV or AIDS in 1991-92 at Casa de Esperanza in Houston, Texas. She also cared for abandoned children at University Hospital of New Jersey in Newark in 1992-93. She taught at a day care center in St. Louis, while a member of the Inter-Province Formation Community.
She also was the head cook and manager of food services for the motherhouse and academy in Columbia for more than 30 years.
Sister Margaret Mary Smith retired in 2006, and moved to St. Anne's Retirement Community in late 2016.
She is survived by two siblings: Sister Therese Marie Smith, ASC, and Marguerite (Peg) Zimmer, and numerous nieces and nephews. She was pre-deceased by her parents and her siblings, Francis, Gerald, Maurice, Robert, Donald, Alfred, Joseph, and Christine.
She is buried in the community cemetery.