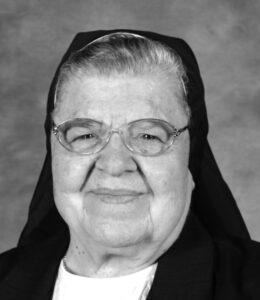 Sister M. Emmanuel Palus ASC died Thursday, Sept. 24, 2015, in Columbia, Pa. She was 91 and had been an Adorer of the Blood of Christ for 74 years.
She was the first-born child of Slovakian immigrants, Joseph and Anna Harman Palus, who settled in Johnstown, Pa. The family grew to include five boys and three more girls.
She came to St. Joseph Academy in Columbia as an aspirant on Aug. 27, 1938, entered the Adorers as a postulant in 1939, and was received on Aug. 12, 1940. She made first vows Aug. 12, 1941 and final vows on July 1, 1946.
After high school graduation, she studied at the Precious Blood Teacher Training Institute, Columbia, and DePaul University in Chicago, where she earned a bachelor's degree in elementary education.  She also received a master's degree in elementary education from Duquesne University in Pittsburgh.
She also studied at Villanova University, Philadelphia for math and Latin; St. Mary's and Notre Dame University for spiritual theology; and Misericordia College, Scranton, Pa., for canon law and scripture. While in Rome, working at the Archives, she studied theology at the Regina Mundi, Angelicum, and Gregorian Universities in Rome, Italy, and Italian at the Dante Alighieri School of Languages.
Sister Emmanuel taught for 21 years at elementary schools in Chicago; Kinston and Lumberton, N.C.; Rochester, N.Y.; and Enhaut, Lewistown and Steelton, Pa.
She also served with LAMP Ministries' Martinique Welfare Hotel for Homeless Families, and Covenant House in New York City.
Over the years, she also served as director of women who were temporarily professed, as local coordinator of community houses, as secretary to the provincial, as a councilor, and as provincial of the former Columbia Province.
She also served with others to set the direction for the community's convergence from three provinces to one U.S. Region in 2000.
She also helped organize retreats in Columbia, served as that former province's archivist, and prepared books on the Adorers' history and spirituality. She also attended four general assemblies that worked on the revised Constitution and was secretary at the first Inter-Assembly Congress in Schaan, Liechtenstein.
She also organized talks and renewal programs for religious congregations of the Harrisburg Diocese in the years after Vatican II.
Sister Emmanuel was preceded in death by her parents, her brothers Charles and Daniel, and her brother-in-law John Burgo. She is survived by her siblings Ann Burgo, Agnes Berger, Mary Corona, and Joseph, all of Johnstown, Pa.; John, of Taylor, Mich., and Bernard, of Pittsburgh; her sister-in-law Patricia Palus, widow of Daniel of Berkeley, Mich.; brother-in-law Joseph Corona; and many nieces and nephews.
Her body returned to St. Anne's Retirement Community and she was buried in the convent cemetery.