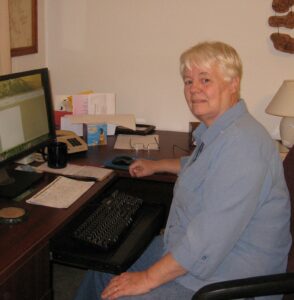 By Sr. Janis Yaekel, ASC
I am Sister Janis Yaekel, ASC and I have pancreatic cancer. In fact, I have lived with cancer since 2012. I hope to share in my blog my journey and my reflections on the presence of God in my life. It is my hope that those who read my entries will find strength for their own journeys. 
Last Friday, I attended a workshop entitled: "Surviving and Thriving with Pancreatic Cancer."  This is a yearly event put on by Siteman Cancer Center at Barnes-Jewish Hospital in collaboration with the Cancer Support Community of Greater St. Louis. It dealt in part with new findings in cancer research.
Earlier this year, I attended a workshop about handling side effects of chemotherapy and the disease itself such as my fatigue.
Attending such events allows me to meet other people in varying stages of pancreatic cancer, and who, like me, are trying to make sense of the situation that they find themselves in.
During the question-and-answer periods of the workshops, we patients had plenty of good questions to ask medical providers, and everyone, as you might expect, had a high interest in research findings.
I learned that I need to drink a lot more fluids as dehydration contributes to fatigue.
The suggested daily amount is 64 ounces, and I can tell you that is a lot of drinking!  I had chemo earlier this week, and have been drinking lots and lots of fluids to see if that will help my post-chemo fatigue.
This evening, I will begin offering a retreat to six of my fellow sisters on the topic, "Tasting the Divine, Breathing Outrageous Hope."  How's that for a mouthful?  It will be about finding the mystic within. All of us have one, but often we don't name it or claim it.  I am looking forward to this retreat but also am a bit concerned about my energy level. At one point I thought of canceling for fear I would not be able to give talks twice a day for seven days in a row, but I also find that giving a retreat energizes me, so that is my hope as I prepare.
Last week I spent a good amount of time watching the U.S. visit of Pope Francis and found myself grinning a lot.
His engagement with the people touched me and his messages were spot on.
He is definitely a pope of the people!
Fall is definitely in the air.  The hummingbirds are just about gone now and I won't put any more food out for them. Now I am filling my other feeder with sunflower seeds and I have noticed the chickadees and titmouse coming already.  Soon the finches will follow.
---