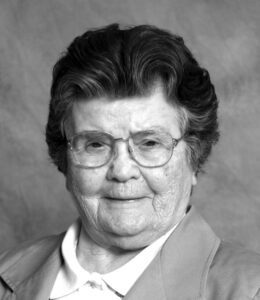 Sister Virginia Walsh, ASC died Thursday, Sept. 24, 2015, at the Ruma Center in Ruma, Ill. She was 91 and had been a professed member of the Adorers of the Blood of Christ for 71 years.
She was born to Irish immigrant parents in Syracuse, N.Y., who moved to St. Louis when she was 4 years old. Orphaned by age 11, she was raised by an aunt and uncle.
She entered the Adorers of the Blood of Christ at Ruma, Ill., in 1942, professed her first vows as Mary Dehlia on July 1, 1944, and made her final profession on July 1, 1949.
She devoted herself to meeting the needs of the sick, poor and disadvantaged. After earning an R.N. degree at St. John's Hospital School of Nursing in St. Louis in 1948, she worked at St. Vincent (now Taylorville) Memorial Hospital in Taylorville, Ill., (1948-50, 1952-61, 1966-69), St. Clement (now Red Bud Regional) Hospital in Red Bud, Ill., (1950-51, 1961-66), and Catholic Children's Home in Alton, Ill., (1951-52).
In 1971, she earned a bachelor's degree in nursing from Incarnate Word College in San Antonio, Texas, and then resumed nursing, working in outpatient clinics with the East Coast Migrant Workers in New York State and in Homestead, Fla., (1971-72) and at St. Joseph Memorial Hospital in Murphysboro, Ill., (1972-73).
She served in Liberia, West Africa from 1973 to '80, leading an effort to build a medical clinic that treated 100 patients a day, most of them women and children. It was there that she learned to diagnose leprosy.
After returning from Africa, she launched a second career as a Catholic chaplain after completing a clinical pastoral care education program at Saint Louis University.
She provided pastoral care services at St. John's Hospital in Springfield, Ill., (1981-82), and then, for the next 26 years, worked at St. Vincent (now Taylorville) Memorial Hospital as chaplain and pastoral care director (1982-2008).
Sister Virginia is survived by her nephew and nieces and many friends, co-workers, and her community of Adorers of the Blood of Christ.
She was buried in the convent cemetery.