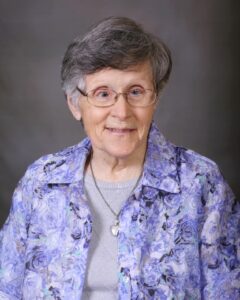 60 years as a vowed member of the Adorers of the Blood of Christ
She made her first profession on July 1, 1960 and her final vows on July 1, 1965.
Sister Sharon was born in Evanston, Illinois, to Patrick and Elizabeth (Franey) Van Horn. She earned a bachelor's degree in theology in 1970 and a master's in religious education in 1972, both from Saint Louis University.
Sister Sharon worked as an educator, administrator and missionary. She taught at Guardian Angel in Oran and at St. Jerome in St. Louis, both in Missouri, and at the Illinois schools of St. Mary in Chester and Immaculate Conception in Centreville.
In Memphis, Tennessee, she was both director of religious education and teacher. She served as the pastoral associate at the Illinois parishes of St. Boniface in Evansville and St. Pius in Walsh. Before beginning her missionary work, she served in Ruma, Illinois, as the director of ASC volunteers and formation.
Her life as a missionary began after several months of Spanish-language study in Cochabamba, Bolivia, after which she became the postulant director in El Alto, La Paz, Bolivia. For several years, she served as a councilor for the Bolivian Foundation. She also spent more than 10 years doing pastoral work at Capilla Sangre de Cristo in El Alto.
Since 2013, Sister Sharon has been a full-time volunteer at Sister Thea Bowman School in East St. Louis, Illinois. She resides in nearby Belleville, Illinois.