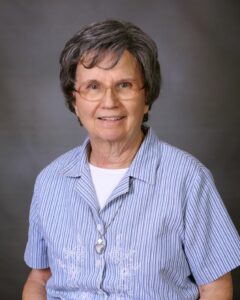 60 years as a vowed member of the Adorers of the Blood of Christ
She made her first profession on July 1, 1960 and her final vows on July 1, 1965.
Sister Elizabeth Ann was born in Olney, Illinois, to Sylvester and Coletta (Kocher) Weiler. She earned a bachelor's degree in psychology at Southern Illinois University in Carbondale in 1970, her RN in nursing from De Paul Hospital School of Nursing in St. Louis in 1976, and a master's in pastoral ministry from St. Joseph College in West Hartford, Connecticut in 1989.
She taught elementary school and was a parish organist for 12 years. She served at St. Augustine in Kelso, Missouri, and at the following schools in Illinois: Sacred Heart in Dupo, St. Elizabeth in East St. Louis, St. Albert the Great in Fairview Heights, St. Rose in Metropolis, St. Andrew in Murphysboro, St. Lawrence in Lawrenceville and St. Mary in Mount Carmel.
Following her nurse's training, Sister Elizabeth Ann served at St. Francis Hospital in Cape Girardeau, Missouri, Clementine Residence and St. Clement Hospital, both in Red Bud, Ill., and at St. John Hospital in Springfield, Missouri.
For more than a dozen years, she did parish work, both at St. Elizabeth Ann Seton and Holy Trinity in Springfield, Missouri. For several years, she worked with Friendship Community in Pennsylvania, a group home for Mennonites. She served as residential nurse at St. Anne Retirement Community in Columbia, Pennsylvania, and at AseraCare Hospice in Lancaster and Lebanon County, Pennsylvania.
Sister Elizabeth Ann served her community as vocation director on the ASC Vocation/Formation Team in the former Ruma Province. She was also health care assistant, then coordinator of that department, at the Ruma Center.
For the past 10 years, Sister Elizabeth Ann has worked part-time for Oxford Home Care and Hospice and served as coordinator of the ministry of care for St. Agnes Cathedral in Springfield, Missouri. She continues those ministries today and lives in Springfield.