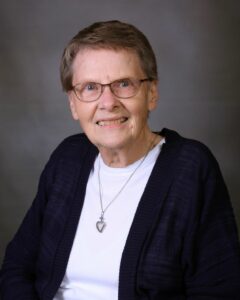 65 years as a vowed member of the Adorers of the Blood of Christ
Sister Maureen made her first profession on July 1, 1955 and her final vows on July 1, 1960.
Sister Maureen was born in Hobart, Oklahoma to Ralph and Isabelle Farrar. She earned a bachelor's degree in education from Sacred Heart College, now Newman University, in Wichita in 1963, and a master's degree in communication arts from the University of Notre Dame in Notre Dame, Indiana in 1968.
Sister Maureen taught at several elementary schools in Kansas, including St. Joseph in Ost, St. Joseph in McPherson, St. Joseph in Conway Springs, St. James in Augusta, St. Martin in Caldwell and St. Anne in Wichita. She taught journalism at Madonna High School and Sacred Heart Academy, both in Wichita. She also taught English at Sacred Heart. She also worked in the public relations office at Newman University in Wichita.
She served her community as director of communications at the Wichita Center, followed by a term as one of the directors on the Provincial Team.
For the past 38 years, Sister Maureen has served the Navajo people at St. Paul's Mission in Crownpoint, New Mexico, as pastoral minister, parish pastoral worker and co-administrator. She currently serves as administrator of the mission and lives in Crownpoint.