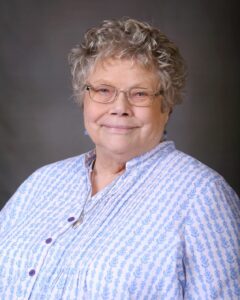 60 years as a vowed member of the Adorers of the Blood of Christ
Sister Darlene made her first profession on July 1, 1960 and her final vows on July 1, 1965.
Sister Diane was born in Spearville, Kansas to Harold and Evlalia Tenbrink. She attended food service workshops and advanced management classes at Fontbonne University in St. Louis, Central State College in Edmond, Oklahoma, and the Program for Continuing Education on Dietary Administration at Saint Louis University.
Sister Diane began her ministry as a staff member at St. Francis Hospital in Tulsa, Oklahoma. She was food service manager at the Wichita Center, and was cafeteria manager at Sacred Heart School in Oklahoma City for many years. She served as a staff member for Women's Initiative Network in Wichita.
For the past dozen years, Sister Diane has been taking care of the sewing needs for Caritas Center, the health care area of the Wichita Center. She continues in that position today.