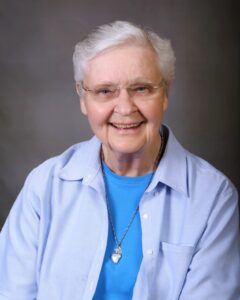 60 years as a vowed member of the Adorers of the Blood of Christ
Sister Darlene made her first profession on July 1, 1960 and her final vows on July 1, 1965.
Sister Darlene was born in Bazine, Kansas, to Martin and Anna Stoecklein. She received a bachelor's degree in education with a minor in theology from Sacred Heart College, now Newman University, in Wichita, Kansas, in 1963, and a master's degree in teaching from Emporia State Teachers College in Emporia, Kansas in 1972. Sister Darlene also earned a master's in pastoral studies from Loyola University, New Orleans, through the Tepeyac Institute in El Paso, Texas in 2009. She received a certificate in Pastoral and Religious Counseling in 1979 from the Albert Cardinal Meyer Institute in Huntington, Indiana, and a certificate from the Institute for Religious Formation, earned from Saint Louis University in 1989.
When Sister Darlene taught elementary school, she often also served as organist, principal and teacher of the after-school parish religion program. Her first assignment was at St. Helena in Hobbs, New Mexico. She then taught at several schools in Kansas, including St. James in Augusta, St. Ann in Olmitz and St. Patrick in Great Bend. She coordinated the after-school religion program in Clonmel, Kansas. In Texas, she taught religion at Our Lady of Assumption in El Paso, Texas, and later served as the school's principal.
Sister Darlene's community service has included being a member as well as director of the Initial Formation program for the ASC community. While in El Paso, she was on the ASC Southwest Vocation/Formation Team and the spiritual advisor for women in the program. For the past 20 years, she has served as librarian at St. Charles Seminary in El Paso, and has been a member of the formation staff, including being co-facilitator, of the Diocesan Pastoral Studies Master's Program. She continues in that position today.