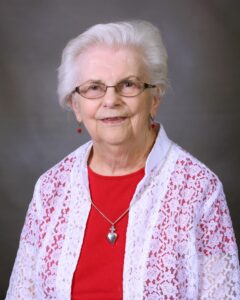 60 years as a vowed member of the Adorers of the Blood of Christ
She made her first profession on July 1, 1960 and her final vows on July 1, 1965.
Sister Regina was born in Prairie du Rocher, Illinois, to Max and Anna (Brown) Siegfried. She earned a bachelor's degree in English from Saint Louis University in 1966, a master's, also in English, from the University of Wisconsin in Madison in 1972. She earned a master's in Christian spirituality from Creighton University in Omaha in 1978, and a doctorate in American Studies from Saint Louis University in 1982.
Sister Regina's ministry included teaching and writing. Her early teaching was at Holy Rosary in Fort Dodge, Iowa, St. Jerome in St. Louis, and St. Augustine in Belleville, Illinois. Her high school experience took her to Gibault in Waterloo, and Assumption in East St. Louis, both in Illinois.
She served as a teacher in the after-school religion program for several area parishes in southern Illinois, where she was based in Cobden, Illinois. She also did part-time literacy work at Guardian Angel Settlement Association in St. Louis.
After earning a doctorate, she taught in higher education for more than 30 years, including at St. Mary Seminary in Perryville, Mo., Glennon College in St. Louis, and Aquinas Institute of Theology in St. Louis, where she became an adjunct professor. She was part of the formation department at both Glennon and Aquinas. For 15 years, she taught young religious who were part of the Intercongregational Novitiate, based in St. Louis. Later she was an adjunct professor of theology at Saint Louis University. She edited the periodical, Spirituality Today, and served as associate editor for Review for Religious.
Sister Regina is still active at St. Vincent Parish in St. Louis where she coordinated the RCIA program for several years. When church volunteers serve meals to homeless clients, she volunteers as one of the "sewing ladies" for those individuals in need of clothing repairs.
She has written histories and compiled and published letters of pioneers and leaders of the Adorers in America, as well as a book about our missionary sisters in China during World War II. She is the archivist at Ruma.
Sister Regina lives in St. Louis where she is active in her neighborhood.