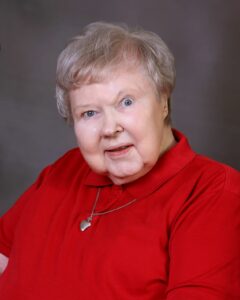 60 years as a vowed member of the Adorers of the Blood of Christ
She made her first profession on July 1, 1960 and her final vows on July 1, 1965.
Sister Michaeline was born in Collinsville, Illinois, to Martin and Rozalia (Hazzard) Ryan. She received her RN in 1963 from St. John Hospital School of Nursing in St. Louis. She was certified in the state of Kansas by the Kansas State Board of Nursing. Sister Michaeline also attended the Oblate School of Theology in San Antonio, Texas.
Sister Michaeline's ministry of nursing spanned more than 30 years. In Illinois, she served at St. Clement (now Red Bud Regional) Hospital in Red Bud, St. Vincent (now Taylorville Memorial) Hospital in Taylorville, St. Ann Home in Chester, Clementine Residence in Red Bud, and the Ruma Center in Ruma. In Taylorville, she was also the supervisor of obstetrics for eight of her 15 years at that hospital. At the Ruma Center, where she was the health care coordinator, she served her community as local assistant to the leader at the Center for several years.
She was director of Casa San Jose, a home for pregnant women in Grants, New Mexico. Other ministries included Community Care, Inc. in East Saint Louis, Illinois and Barclay House in St. Louis.
Sister Michaeline served as the assistant nurse at the Ruma Center before she began Living Mission in Later Life. She resides at the Center today.