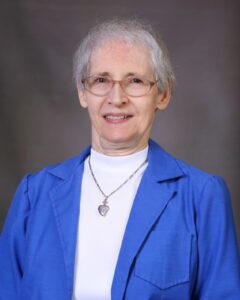 60 years as a vowed member of the Adorers of the Blood of Christ
She made her first profession on July 1, 1960 and her final vows on July 1, 1965.
Sister Martha Ann was born in Sparta, Illinois, to Oliver and Martha (Klein) Lauber. She earned a bachelor's degree in math/physics from Webster University in St. Louis in 1966, and a master's in the corporate ministry program at Saint Louis University in 1980. She also earned a certificate in parish ministry from Notre Dame University in South Bend, Indiana, in 1989.
Sister Martha Ann was an educator and caregiver. She taught at both the elementary and secondary levels, including Sacred Heart in Dupo, Illinois, and Holy Family in Cahokia, Illinois, at the middle and junior high levels. She also served at Mater Dei High School in Breese, Illinois, St. Teresa Academy in East St. Louis, Illinois, and St. Edmund High School in Fort Dodge, Iowa.
She also worked in religious education at St. Francis Xavier "College Church" in St. Louis, St. George School in New Baden, Illinois, and the parishes of Sacred Heart in Salem, Missouri, and St. Patrick in Rolla, Missouri. She also ministered at Holy Trinity in Stonington, and St. Stanislaus in Macon, both in Illinois.
She was a caregiver for senior sisters at Clementine Residence in Red Bud, Illinois, and for others at St. Ann Home in Chester, Illinois, and St. Clement (now Red Bud Regional) Hospital in Red Bud. She served as a certified nurse assistant at Cardinal Ritter Senior Services Institute in St. Louis, and as a volunteer for residents of the San Luis Apartments. She assisted residents at the McCormick Senior Living residence, helping them with necessary paperwork. She also tutored students in the St. Louis Public Schools through their Adult Basic Education Department.
Sister Martha Ann currently resides at the Ruma Center where she assists where needed with various activities.