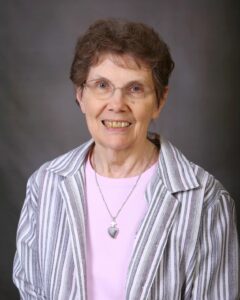 60 years as a vowed member of the Adorers of the Blood of Christ
She made her first profession July 1, 1960 and her final vows on July 1, 1965.
Sister Serena was born in East St. Louis, Illinois, to Albert and Mathilda (Wuller) Downs. She received a bachelor's degree in geography and education from Saint Louis University in 1970 and a master's in special education with an emphasis on learning disability/behavior disorder from the University of Missouri in St. Louis in 1983.
Sister Serena's ministry in teaching and child care spanned nearly 50 years. She taught at St. Mary in Salem, Saints Peter and Paul in Waterloo, St. Mary in Chester, Sacred Heart in Dupo and St. Patrick in East St. Louis, all in Illinois. She served as both teacher and principal at St. Wenceslaus in St. Louis, and as principal at Sacred Heart in Festus, Missouri.
With a focus on special education, she served as child care director at Guardian Angel Settlement Association in St. Louis for 15 years.
For the past several years, Sister Serena has worked as a receptionist for Catholic Legal Assistance Ministry in St. Louis, where she also resides.