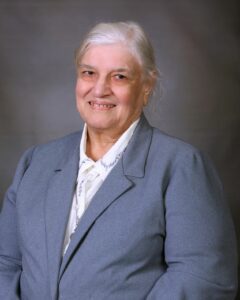 60 years as a vowed member of the Adorers of the Blood of Christ
She made her first profession on July 1, 1960 and her final vows on July 1, 1965.
Sister Margaret was born in Damiansville, Illinois, to Aloys and Estelle (Jansen) Heimann. She received a bachelor of science degree in nursing from Saint Louis University in 1965. She holds certificates in trauma nursing through the State of Illinois Department of Health, coronary care from the University of Illinois in Chicago, and anesthesia from the former Barnes Hospital School of Nursing in St. Louis.
Sister Margaret ministered nearly 50 years in the medical field. Her first assignment was at St. Clement (now Red Bud Regional) Hospital in Red Bud, Illinois, where she was both nurse and vocational education teacher. She also served at St. Clement as a certified registered nurse anesthetist. She returned to St. Clement as a nurse before accepting a position at St. John's Mercy Medical Center in St. Louis, where she was a staff nurse in behavioral health for 28 years.
Currently residing at the Ruma Center as a precaution against the pandemic, Sister Margaret helps where she can. She hopes to return to her home in St. Louis.