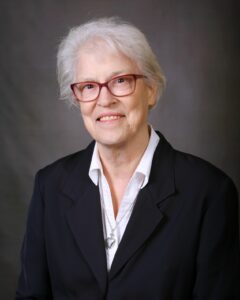 60 years as a vowed member of the Adorers of the Blood of Christ
She made her first profession on July 1, 1960 and her final vows on July 1, 1965.
Sister Raphael Ann was born in Ridgway, Illinois, to Clarence and Marcella (Koester) Drone. She earned a bachelor's degree in English literature from Saint Louis University in 1971, and a master's in pastoral theology from Loyola University in Chicago in 1999. She also earned a certificate in religious formation from the Institute for Religious Formation in St. Louis in 1980.
Sister Raphael Ann was both a teacher and a missionary. She taught in elementary schools in Illinois at Saints Peter and Paul in Waterloo, Holy Family in Cahokia, and at Guardian Angel in Oran, Missouri. She taught high school religious education at Althoff in Belleville, Illinois. She was a house parent for several months at the Catholic Children's Home in Alton, Illinois.
She spent nearly 20 years as a missionary in Liberia, West Africa. In Grand Cess, she was an administrator of St. Patrick's elementary school. In Garnersville, she served in administration at St. Michael's High School. For several years, she served as the Cape Palmas Diocesan Coordinator of Schools based in Grand Cess. More recently, she joined the SMA missionaries in Tubmanburg Bomi Hills in their catechist training and programs for adult formation. For several months, she helped the SMA missionaries in their efforts to train lay ministers for service in the pastoral center in Gbamga. She was also an advisor/English teacher at the seminary.
Sister Raphael Ann currently resides at the Ruma Center and assists where she is needed.