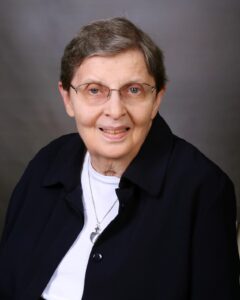 60 years as a vowed member of the Adorers of the Blood of Christ
Sister Eileen made her first profession on July 1, 1960 and her final vows on July 1, 1965.
Sister Eileen was born in David City, Nebraska, to Henry and Mary Dehner. She earned a bachelor's degree from Sacred Heart College, now Newman University, in Wichita in 1963, and a master's degree from Kansas State Teachers College in Emporia, Kansas, in 1972. Both degrees were in elementary education.
Sister Eileen worked in the religious education program at St. Aloysius in Greenbush, Kansas, and at Sacred Heart in El Reno, Oklahoma, where she also was active in parish ministry. Her primary ministry was as a teacher in Kansas and Oklahoma. She taught at St. Joseph in Ellinwood, St. Mary in Moline, St. Joseph in Offerle and St. Francis Assisi in Wichita, all in Kansas. She also served as Resource Teacher at St. Francis for more than 10 years. In Oklahoma, she taught at St. Eugene in Oklahoma City and Holy Trinity in Okarche.
Sister Eileen is currently Living Mission in Later Life at the Wichita Center.