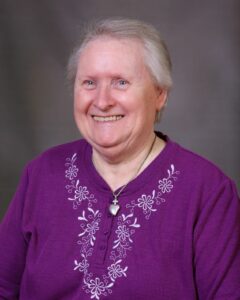 60 years as a vowed member of the Adorers of the Blood of Christ
She made her first profession on July 1, 1960 and her final vows on July 1, 1965.
Sister Clare was born in Erie, Pennsylvania, to Martin and Anna Marie (Betz) Boehmer. She received a bachelor's degree in English in 1958 and a master's in English in 1968, both from Saint Louis University. She also studied library science and educational media. In 2004, she earned certification as a healing touch practitioner.
Sister Clare engaged in a variety of ministries. She taught English at St. Pius X High School in Festus, Missouri, and at these secondary schools in Illinois: Precious Blood Institute in Ruma, Saints Peter and Paul in Waterloo, and St. Teresa Academy and Assumption, both in East St. Louis. She served as librarian at Gibault High School in Waterloo, Illinois, and as librarian and secretary at St. Mary in Chester, Illinois. She was librarian and computer teacher at St. John Evangelist in Tucson, Arizona.
She was director of education at the Emergency Shelter for Teenaged Girls at the St. Louis Archdiocesan Catholic Charities, Marian Hall, in St. Louis. She was education tech coordinator at St. Blaise and Saints Peter and Paul School in St. Louis.
Sister Clare was publicity coordinator for the former Ruma Province. She authored a book, Echoes in Our Hearts, an account of the lives of our five missionary sisters who were killed in Liberia, West Africa. She also served as webmaster and associate editor for the magazine, Review for Religious.
Her final ministry was as a healing touch practitioner, a method devoted to holistic healing. She continued in this service when she moved to the Ruma Center to begin Living Mission in Later Life. Sister Clare resides at the Center today.