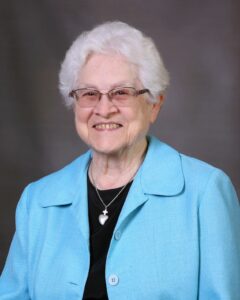 75 years as a vowed member of the Adorers of the Blood of Christ
She made her first profession on July 1, 1945 and her final vows on July 1, 1950.
Sister Frances was born in Pocahontas, Arkansas, to Richard and Margaret (Muyers) Newton. She earned a bachelor's degree in European History in 1958 and a master's in the same field in 1959, both from Saint Louis University. She did post-graduate studies at St. Joseph College in Rensselaer, Indiana, and Southern Illinois University in Edwardsville.
Sister Frances' ministries included teacher, administrator, director, coordinator and volunteer. Her service at elementary schools included Saints Peter and Paul in Waterloo, St. Joseph in Prairie du Rocher, St. Clare in O'Fallon, Damiansville Public School in Damiansville, Immaculate Conception in Columbia, all in Illinois, and Holy Rosary in Fort Dodge, Iowa. She taught at the following high schools: Saints Peter and Paul in Waterloo, St. Teresa Academy and Assumption, both in East St. Louis, Gibault in Waterloo, all in Illinois, and St. Edmund in Fort Dodge, Iowa.
She served as administrator of Catholic Children's Home/Alton Orphanage in Alton, Illinois, and at St. Ann Home for Senior Citizens in Chester, Illinois. Her community service included being Director of Apostolates for the former Ruma province. Later she became the ASC Volunteer Director and the ASC Health Executive Director for the United States Region. For several years, she served as Assistant Director for Casa San Jose, a home for pregnant women, in Grants-Milan, New Mexico. During those years, she also did catechetical work in the local parish and in the women's prison.
For more than 15 years, Sister Frances served as the Liturgy Coordinator at the Ruma Center. While she is currently Living Mission in Later Life at the Center, she continues as coordinator of environment in the chapel.