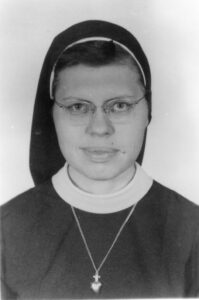 Sister Rita Kampwerth was an Illinois farm girl who became a passionate social activist in her adopted home of East St. Louis, Illinois.
She was the fourth in a family of seven children. She had five cousins and a sibling, Sister Georgia, who are or were members of the Adorers community. She made first vows on July 1, 1955 and final profession on July 1, 1960.
Early Years
Sister Rita Kampwerth spent her early years in the community in domestic service. When she arrived at St. Teresa Academy in East St. Louis in 1966, her dream of working with inner-city poor materialized. In a city troubled by racial and civic unrest and violence, Rita became a beacon of calm and firm kindness for at-risk youth and for adults in dire need. She earned a degree in social work in 1974 from Southern Illinois University at Edwardsville.
Sister Rita Kampwerth was a charter member of United Front and a member of the League of Women Voters. Her work joined the Catholic Church and other churches to the social justice movement in the city.
Advocate for Change
She supervised Neighborhood Youth Corps students who met at St. Teresa Academy. She became a familiar and expected figure at protest demonstrations as an advocate for change and fair treatment of minorities.
She was upfront and visible at meetings, protests and elections as a poll-watcher. But she also worked behind the scenes helping people obtain better housing, collecting furniture, clothing and food for needy people, finding bail money and legal aid for people in jail, serving on city organizations, and responding to countless requests for aid. She knew how to network to achieve her goal to serve the Body of Christ in crisis.
The last years of her life revealed her deeply spiritual side. She moved to Clementine Residence in Red Bud, Illinois for care as she struggled and ultimately succumbed to cancer.
Bridge Builder
Discussions with visitors were never about her illness but about their concerns and lives. She continued to build bridges, work for ecumenism, and care for others in her dying process. Social activism had assumed a new form, one that spoke powerfully even when she couldn't be at the demonstration.