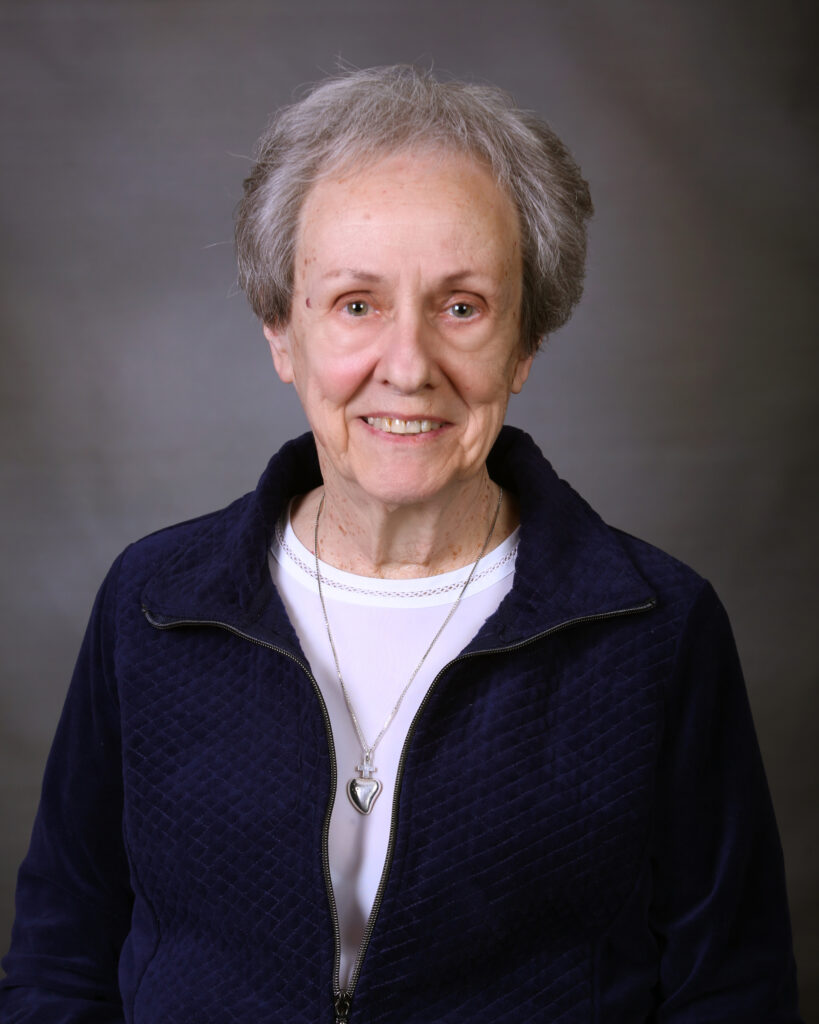 Sister Mildred (Michael Ann) Gross, ASC, celebrated 65 years as a vowed member of the Adorers of the Blood of Christ (ASC) on Friday, October 7, 2022. Sr. Mildred made her first profession on July 1, 1957 and her final vows on July 1, 1962. This year's anniversaries were celebrated with a Mass at Benedictine Living Community, located on the grounds of the Shrine of Our Lady of the Snows. Bishop Michael McGovern, Bishop of Belleville, IL, presided at the Liturgy.
Sr. Mildred was born in Evansville, IL to Michael and Martha Gross. She received her bachelor's degree in Medical Records from Saint Louis University in 1961. She completed her studies at the Institute of Religious Formation at Saint Louis University in 1994. She received certification as a chaplain from the National Association of Catholic Chaplains in Milwaukee, WI in 1985, and her certification as a spiritual director from the Shalom Prayer Center in Mt. Angel, OR in 1995.
Sr. Mildred's ministry focused on Healthcare and Community Service. She spent 16 years as Director of Medical Records at St. Clement (now Red Bud Regional) Hospital in Red Bud, IL. She served as president of the Illinois Medical Records Association from 1969-70. She served both as Assistant Administrator and as Director of Pastoral Care at St. Joseph Memorial Hospital in Murphysboro, IL, and later as Corporate Director of Spiritual Care for Southern Illinois Healthcare. She spent seven years as a volunteer at St. Vincent de Paul doing secretarial work, praying with the people at Cosgrove's Kitchen and making cookies for the poor and needy.
Her community service included ten years as a councilor to the provincial, seven years as provincial of the former Ruma Province, and ten years as Director of Community Life and Mission for the Ruma Center. She also spent several years on the staff of the House of Prayer in a building adjacent to the Center. As provincial of the former Ruma Province, she received a Doctor of Letters degree from St. Joseph College in Rensselaer, IN in 1994 for her religious leadership in dealing with the martyrdom of five Adorers during the Civil War in Liberia, West Africa in 1992.
Sr. Mildred served on the Board of Catholic Charities of Southern Illinois for several years, including a year as chairperson. She served on several other boards, including the Belleville Diocesan Deacon Formation Committee, the Diocesan Ministry to the Sick and Aged and the Apartment Community of Our Lady of the Snows. In 2016 she received the Vincentian Volunteer Award for "Volunteering with Heart."
Sister Mildred recently moved to the Benedictine Living Community as an independent resident to be near her only living sister who resides at BLC in the skilled nursing unit.