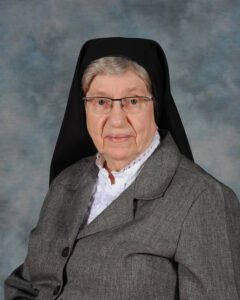 Sister Maureen Zubay, a Pennsylvania native who was a lifetime educator, died Tuesday, April 28, 2015, at St. Anne's Retirement Community in Columbia, Pa. She was 88 years old and had been a professed member of the Adorers of the Blood of Christ for 71 years.
She was born on Aug. 9, 1926, in Johnstown, Pa., and began her education at Sts. Peter and Paul School. When the Adorers of the Blood of Christ began teaching at the school after the 1936 Johnstown flood, young Stephanie Zubay responded to the invitation of Mother Hildegard and joined the ASCs.
Sister Maureen graduated from St. Joseph Academy and studied at the Precious Blood Teacher Training Institute in Columbia. She later received her bachelor's degree in Philosophy from DePaul University in Chicago, Ill., and her master's in Education from Duquesne University in Pittsburgh, Pa.
Sister Maureen's ministry in education was spent in Illinois, Indiana, Kansas, New York, North Carolina, Ohio, Pennsylvania, and South Carolina. While she taught all ages, from kindergarten through twelfth grade, middle grades were her favorites. She often taught two grades in one classroom and for more than half of her years as a teacher, she served as principal of the school while also teaching. She then spent several years taking care of the Bishop's Residence in Harrisburg, Pa. before beginning her work at St. Anne's Retirement Community in Columbia. There she worked in the occupational therapy department, served as purchaser, coordinator of inventory, and also of volunteers.
Her community service included being the administrator of St. Joseph convent, local councilor, coordinator of apostolic services, and minister at the Precious Blood Spiritual Center. She served for many years as a volunteer at the local Food Bank.
In late 2010, Sister Maureen moved to St. Anne's Retirement Community and began Living Mission in Later Life.
She was preceded in death by her parents, Francis and Irene (Hrubasay) Zubay, immigrants from Slovakia, and all of her siblings: Josephine, Irene, Anna, Francis, and Joseph. She is survived by her sister-in-law Mary Hipp Zubay, nieces, nephews, and members of the ASC community.
Sister Maureen returned to St. Anne's Retirement Community on Tuesday, May 5, 2015, where she was buried in the community cemetery.