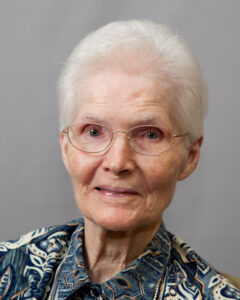 Sister Lorene Orth, a Kansas native who taught, did parish work, and served as province secretary, among her many ministries, died Tuesday, April 28, 2015, at the Wichita Center. She was 89 and had been an Adorer of the Blood of Christ (ASC) for 73 years.
She was born May 14, 1925, in Ost, Kan., into a farming family with nine children. She attended St. Joseph School in Ost where she was taught by the ASC Sisters. She joined the community and professed her vows at age 16.
Sister Lorene graduated from St. John's Academy and Sacred Heart College, now Newman University, in Wichita, Kan., with a bachelor's degree in education. She earned her master's degree in education from Creighton University in Omaha, Neb. and her master's degree in library science from Kansas State Teachers College in Emporia, Kan.
Sister Lorene's ministry roles in Kansas, Nebraska, and Oklahoma included housekeeper, hospital dietitian, classroom teacher, principal, librarian, tutor, ASC Wichita Province secretary, director of religious education, parish minister, and ASC Associate Program secretary.
She retired to the Wichita Center in 2001 and later moved to Caritas Center when she needed nursing care.
She was preceded in death by her parents, Arthur and Mary Magdalen (Ewertz) Orth; her brothers Arthur Jr., Lawrence, Raymond, and Elmer; and her sisters Alvina and Mildred. She is survived by her sisters Evelyn Kletchka-Jacobs and Madalen Robinson; nieces, nephews, and her ASC community members.
Sister Lorene's body was welcomed at the Wichita Center on Friday, May 1, 2015, where she is buried in the community cemetery.