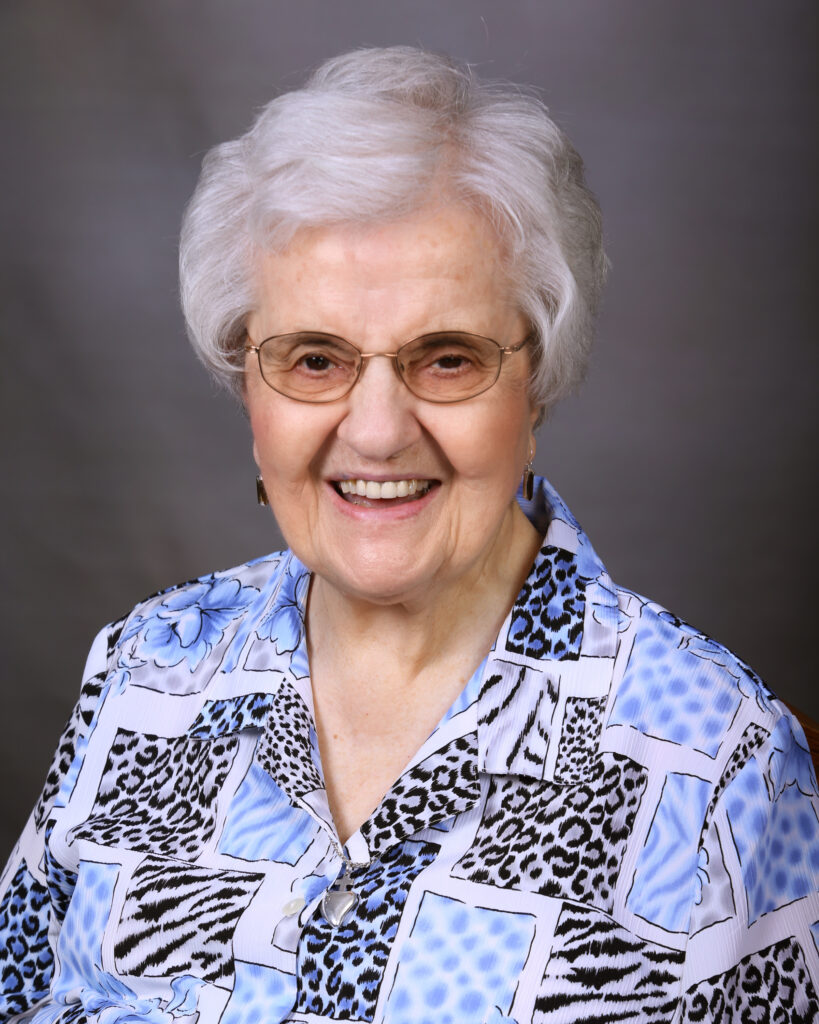 Sister Mary Schoenecker, ASC, celebrated 75 years as a vowed member of the Adorers of the Blood of Christ (ASC) at the Wichita Center on Sunday, May 29, 2022. She made her first vows on July 1, 1947 and her final profession on July 1, 1952. She marked her anniversary with a meal with the ASC community and a Eucharistic celebration at the Wichita Center.
Sister Mary (Mary Louis) was born in St. Leo, KS, to Nicholas and Gertrude Schoenecker. She received her bachelor's degree in Education from Sacred Heart College, now Newman University, in 1960 and her master's in Guidance from Creighton University in Omaha, NE, in 1967. She also attended the Center for Orientation to Mission Seminar at the Maryknoll Center for Missions in Maryknoll, NY, during the summer of 1978.
Sr. Mary's early years in ministry were spent in the classroom, teaching primary grades as well as music in Roggen, CO, and Kansas schools in Conway Springs, Colwich, Spearville, Plains, Marienthal and All Saints in Wichita.
Following her Orientation to Mission study at Maryknoll Center, she served in Masan, Korea for 22 years. In addition to studying the Korean language, she was involved in teaching English, guiding the young sisters, giving music lessons, serving as the Director of the Catholic Social Center and Coordinator of Hae Won Dong Community, developing ministry with adults, teaching at Pusan Catholic Seminary, giving English tutorials, classes and other needed services to people living in poverty.
In addition to her community service in Korea, Sr. Mary was the Director of Postulants, Local House Superior, and Chairperson of the Commission for Personal Services for Community, all at the Wichita Center. She assisted the Invitation Coordinator in the ASC Vocation Office and volunteered a total of nine years for Harry Hynes Memorial Hospice and at Great Plains Earth Institute in Wichita.
Sr. Mary is currently Living Mission in Later Life at the Wichita Center.