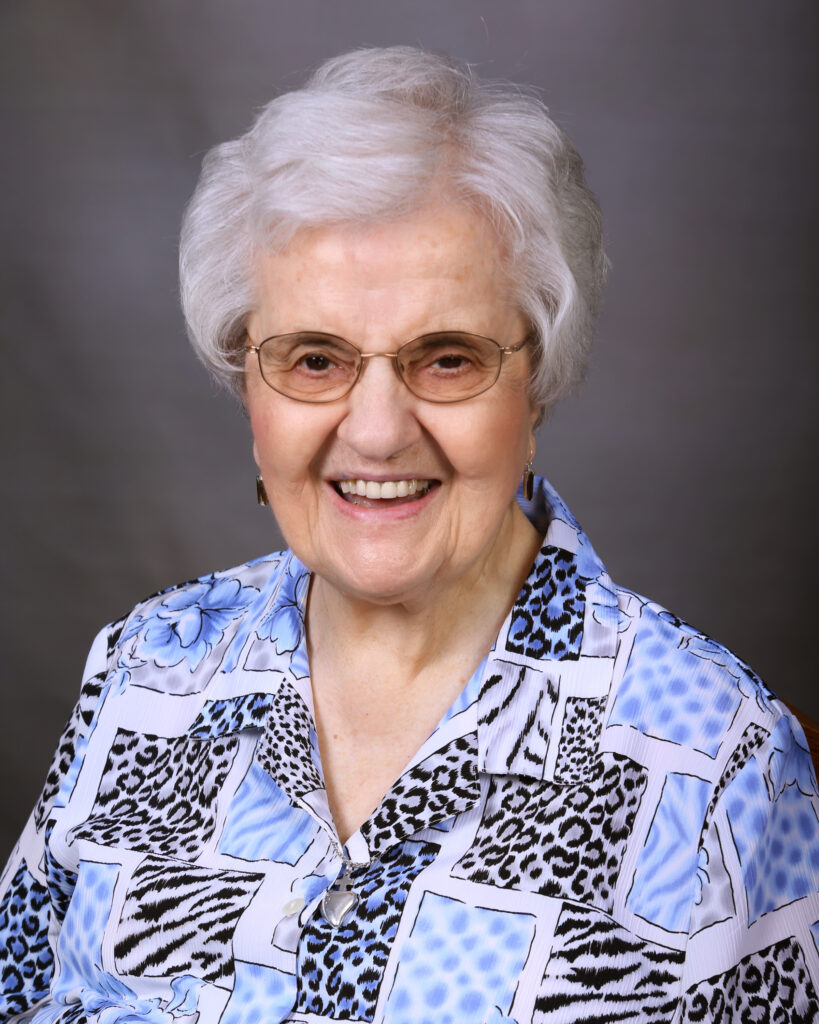 Sister Mary Schoenecker, ASC, entered into eternal life, on Friday, November 18, 2022, in Wichita, KS. The previous day she was admitted to Ascension St Francis Hospital following a fall. Sr. Mary was 92 years old and a professed Adorer of the Blood of Christ for ­­75 years.
Sr. Mary, baptized Mary Magdalen, was born to Nicholas and Gertrude (Hommertzheim) Schoenecker on February 1, 1930, at Nashville, KS. She attended Catholic school in nearby St Leo. Sr. Mary wrote that while she was fascinated by her Dominican teachers, she was determined she would never be a sister. However, as a secondary student at Sacred Heart Academy, Sr. Mary "…came to feel that this was my life," and she entered the Adorers in 1946. She received the name Mary Louis as a novice on July 1, 1946, but later returned to her baptismal name. On July 1, 1947, she made first vows and five years later pronounced final vows on July 1, 1952.
Music was an important part of Sr. Mary's life. She enjoyed listening to classical and semi-classical music and played the piano. She added this talent in her Korean ministry as she sang, played the piano, directed parish choirs, and planned liturgies. She also taught Bible classes and opened the Scriptures to raise the level of social awareness in light of the teachings of Christ. She enjoyed visiting the elderly and shut-ins in the neighborhood. She assisted the bishop and chancery staff with translations. Reflecting on her language classes with students in middle school through university, she wrote, "I think of it less as teaching English than as teaching people."
In recent weeks Sr. Mary met with a former member of the ASC Korean community and with one of her language tutors, who was visiting in the US. Sister Mary had a large extended family and enjoyed spending time with them. A few days before her death, she saw many of her relatives at a great-niece's wedding. That evening she visited via-teleconference with the Korean Sisters, who were meeting in assembly.
Sister Mary was preceded in death by her parents, Nicholas and Gertrude, and all of her siblings. These were her brothers, Bartel, Peter, Joseph, and her sisters, Anna Marie Schoenecker, Josephine Blanchat, Elizabeth Smith, Martha Miller, Christine Carter, and Bertha Zogelman. She is survived by numerous nieces and nephews and grand-nieces and nephews as well as members of the Adorers of the Blood of Christ community.
Sr. Mary will be welcomed home to the Wichita Center November 25, with a Wake Service at 7:00 p.m. The Mass of Christian Burial will be celebrated November 26, at 10:30 a.m. with Fr. Meinrad Miller, OSB, a nephew, as presider and homilist. Burial will be in the convent cemetery.
Sister Mary, we will miss your joyful, attentive presence among us. We trust that you are now enjoying the attention of the Loving God whom you served with generosity and delight.