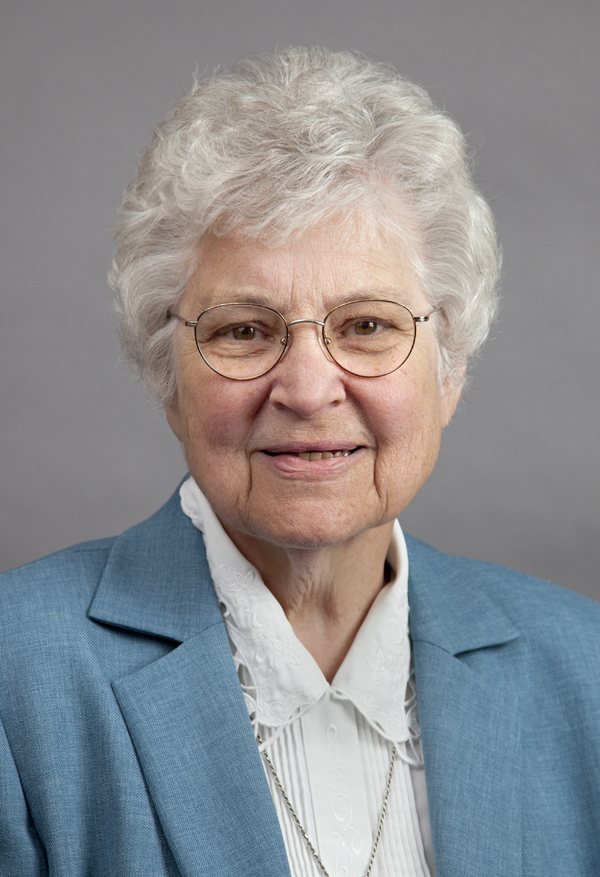 Sister Catherine (Mary Cyril) Wellinghoff, ASC, died peacefully at 2:15 a.m. on Friday, October 28, 2022, at Benedictine Living Community on the grounds of the Shrine of Our Lady of the Snows near Belleville, IL. She was 86 years old and had been professed for 69 years.
Baptized Catherine, she was the third of seven children born to Bernard and Frances (Kohlmann) Wellinghoff of Bartelso, IL. She made her first profession on July 1, 1953 and her final vows on July 1, 1958.
Sister Catherine received her bachelor's degree in Theology from St. Joseph College in Rensselaer, IN, in 1968. She earned her master's in liturgy from the University of Notre Dame, in Notre Dame, IN, in 1974, and her certificate from the Institute for Retreat and Pastoral Ministry from Notre Dame in 1983. She also spent a Spanish Immersion summer in Bogota, Colombia, in 1968.
Her ministry of teaching spanned almost 20 years. She served as teacher at St. John the Baptist School in Smithton, IL; as teacher and organist at St. Bruno in Pinckneyville, Holy Family in Cahokia and St. Rose at Metropolis, all in IL; as teacher, principal and organist at St. Stephen in Flora, IL; as principal and teacher at St. Patrick in Ruma, IL.
In the diocese of Belleville, IL, Sr. Catherine served as Director of Worship for seven years, traveling to parishes and speaking to groups about the need for a dynamic liturgy, following the spirit of Vatican Council II.
Sr. Catherine then found her niche in an individual parish. She served as Pastoral Associate for St. Dominic in Breese, IL, then at Queen of Peace in Ewing, MO. Her final position was as Parish Life Coordinator for 17 years at St. Paul in Johnston City, IL. In this role she served as administrator of the parish, attending to all the duties of a pastor when there was no resident priest.
Sr. Catherine was preceded in death by her parents, her brother Bernard, sister Joan (Edward) Foppe, sister-in-law Martha Wellinghoff.
She is survived by her brother Paul, her sisters Marie, Grace (Paul) Goedde, and Marjorie (Paul) Schniers, sister-in-law Dorothy (Bernard) Wellinghoff, nieces and nephews, and members of the Adorers of the Blood of Christ.
Visitation will be held on Wednesday, Nov. 2, from 12:30-2:00 p.m., at Benedictine Living Community, with a Prayer of Welcome and Sharing of Memories beginning at 1:00. The Mass of Christian Burial will begin at 2:00 p.m.. Immediately after Mass, the funeral procession will travel to the Ruma Center Cemetery for burial.