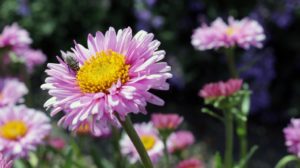 Early Years
Sister Mary Philomena Heindl was born in Oberndorf, Bavaria, Germany on October 23, 1892.
Coming from a faith-filled family, Sister Mary Philomena Heindl became a woman imbued with the gentle spirit of God. At age 19, she spoke to her parish priest about wanting to become a Sister. That proved providential, because when Sister Sophie Ruef came to the neighboring town seeking postulants for the Adorers' mission in America, the pastor called for her.
Headed to America
Sister Mary Philomena Heindl met with Sister Sophie on Sunday afternoon, and early Tuesday morning, she was on her way to America. Philomena wrote of the experience, "I was so determined that I would like to serve God in the convent that I didn't dare to tell myself that I was really hurting."
With Sisters Sophie and Achatia and 10 other candidates, she left Bremen by ship and reached Nazareth Home in Alton, Illinois, on Sept. 21, 1911.
In Alton, she learned how to be a Sister and to speak English. She taught school and served as novice directress, emphasizing to novices the importance of giving one's self to others.
New Columbia Province
With Mother Paulina Scheeberger, Mother Xavier Schneider, Mother Engelberta Mueller and Sister Mary Philip Barfussler, Philomena signed the original Charter of Incorporation of the Columbia Province in 1929. She was the first administrator of the new St. Anne's Home of the Aged (1938-1945). For nearly 30 years, Philomena alternated between six-year terms as Home administrator and superior of the Sisters working at the Home and as a superior at St. Joseph Convent (motherhouse).
She was provincial councilor for nine years. During her administration at the Home, she oversaw construction of several additions.
Later Years
At the age of 77 in 1969, she retired as Home administrator and superior, but continued to remain busy. She sewed and read, but mostly prayed.
"The calm and quiet of my retired years since 1969 speak to me of God's unwavering fidelity," she wrote. "Jesus told us 'Seek first the Kingdom of God,' which I hope I did, "and everything will be given unto you."
"My senior years are spent in the shadow of the tabernacle in peace and joy."
Gentle Presence
In 1981 after a fall, she went to live at St. Anne's Home where she was once the administrator. She was a gentle presence with both nurses and other guests, and prayed with them.
She died at age 97, in her 77th year of religious life.