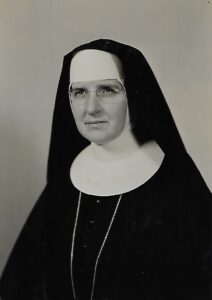 Coming to America
Mother Hildegarde Arnold was born in Bremelau, Wurttemberg, Germany, August 19, 1889. Because she had an aunt in the community of Adorers, she decided to come to America. On August 10, 1914, accompanied by two other prospective postulants, she arrived at Nazareth Home in Alton, Illinois, to begin postulancy.
Her first assignment took her to St. Joseph's School in St. Louis, Missouri, where she began her ministry of teaching, something she loved, and that was a thread throughout her life.
Teacher
Her next assignment was at Sacred Heart School in McKeesport, Pennsylvania. She not only taught but also attended classes at Duquesne University and was superior of the local community. After teaching at the provincial motherhouse in Columbia, Pennsylvania, she was sent to open the Bishop Creek School at Dietrich, Illinois. She also taught at St. Jerome's School in Chicago, Illinois. She had almost completed her master's degree when she was called home to serve as provincial superior.
As provincial from 1938 to 1947, she assumed the responsibility of building the new motherhouse during the post-World War II period.
Pioneer in the South
Mother Hildegarde Arnold began women's lay retreats and opened ministries in the South, establishing Sisters as domestics at bishop residences in Raleigh, North Carolina (1940) and Savannah Georgia (1941).
She also dispatched Sisters to staff newly organized parish schools including Holy Trinity (now Christ the King) in Kinston, North Carolina; St. Teresa's School in Albany, Georgia; St. Raphael's School in Greenville, North Carolina; St. Francis de Sales School and St. Madeleine Sophie School in Lumberton, North Carolina; St. Joseph School Hartsville, South Carolina; and Our Lady of Atonement School, Kinston, North Carolina.
In 1942, she asked Sister Mary Benedict Bakarich to begin lay retreats, a ministry the Sisters continued until the Columbia, Pennsylvania motherhouse was sold in 2012. After her time as provincial superior, she then taught for 17 more years in the schools in the Carolinas.
New Frontier
Education is a ministry that changes the lives of students. Many ASCs today continue the ministry of education in various forms, through teaching, tutoring, and by example. Her opening missions in the Southeast was a new frontier for the Adorers.
The new frontier today is not always certain. How will Adorers respond?