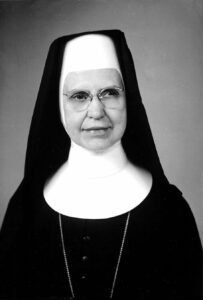 Mischievous and Misunderstood
Sister Aquinas Stieferman, known first as Genevieve, described herself as an active, mischievous little girl, with a streak of stubbornness. Yet throughout her life, she often felt misunderstood, and suffered bouts of discouragement. Her serenity came through her love of the beauty in nature, and in creating and developing the flower beds surrounding Our Lady's Grotto at the motherhouse in Ruma, Illinois.
She was born May 20, 1895 in Kliewer, Missouri, to Peter and Cecilia Antweiler Stieferman. She was the middle child in a family of nine children, and her education was in public schools except for the year of preparation for her first Communion.
She had no contact with Sisters. When she was 12, the family moved to Okarche, Oklahoma. Though she liked beautiful clothes, she was shy about going out, and preferred to stay home and read. She became ill during her high school years, and had to discontinue her formal education. She loved helping her dad on the farm.
Strict Rules
As she came to know the Sisters in Okarche, she eventually decided to enter the convent. She spent some time with the community in Wichita, Kansas, before going to Ruma for her postulancy and novitiate. Her formation years were often difficult. Sister Aquinas Stieferman, as she would come to be known, always found the strict rules and the rigorous silence troublesome, and remembered with fondness the few free days each year when they could pack a lunch and go to the woods.
After making her vows on July 7, 1914, Aquinas returned to Wichita, and began her mission as a teacher in schools throughout Kansas. Her sister Pauline joined her in 1919 and became Sister Petrona.
She was a constant source of comfort and encouragement to Aquinas in the following years. Continuing her studies in summers, Aquinas received her bachelor's degree from Fort Hays in 1928. In 1933, she became the first person at Wichita University to get a master's degree in botany. Teaching botany at Sacred Heart College, now Newman University, became the source of one of her greatest joys. Another joy for her were the years she combined her teaching with directing the Alumni Association at the college, establishing the tradition of a Family Day each summer for alumni and their families.
A Difficult Vocation
Sister Aquinas Stieferman had faced many difficulties in her choice of a religious vocation. Through the years, she often faced reprimands from her superiors. At one time, she became so discouraged that she contemplated asking for a dispensation from her vows. It was only the support of Sister Petrona that enabled her to overcome her discouragement and achieve peace.
She admitted later that her lack of self-confidence often gave way to scrupulosity. At a celebration of the 60th anniversary of her vows, she said her greatest gift to the church was that she had persevered in religious life.
Final Peace
Her retirement years brought her much peace and contentment, as she discovered an aptitude and love for painting, and spent many hours in this creative work.
Aquinas suffered a massive heart attack, and died on May 9, 1975, just a few days before her 80th birthday.