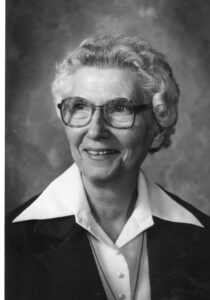 Sister Mary Louise Utar was both an international Adorer and a homebody. Born on November 29, 1913, in Taylorville, Illinois, to Lithuanian immigrant parents, she was the second of four daughters of Anthony and Anna Viskazka Utar. She made first vows on July 2, 1932 and final vows five years later in Kiang Kia, Shangtung, China.
China Mission
After two years of temporary vows, she volunteered for the China mission, expecting never to return home. She taught in the Catholic school in Yangsin, China and worked with the Order of Friars Minor from Chicago, Illinois.
A gifted writer, Sister Mary Louise Utar wrote most of the general letters from China. She had begun to articulate a deeper understanding of the studies of religious missions and mission work that would partner Chinese Christians with priests and Sisters. World War II cut short those ideas.
Prisoners of War
When the Adorers, and other missionaries and business people were confined as prisoners during the war, Sister Mary Louise Utar's vivid prose captured the details and meaning of the experience in "Concentration Period of Our Nine Sisters in China," a long essay describing the internment years.
Congregational Leadership
After returning in 1945 to the States, Sister Mary Louise Utar completed a degree at Saint Louis University and began teaching in grade schools in southern Illinois. Later, she was appointed local superior in Ruma and first provincial assistant to Mother M. Dorothy from 1952 to 1959. She then was elected as second general assistant for the general council in Rome. Rome challenged her, but her reliance on the Providence of God, her native sharp intelligence, and courageous spirit sustained her.
Sister Angelita Myerscough maintained that, "in some ways, we owe to S. M. Louise the outcome of the 1965 general chapter which elected Mother Marciana Heimerman and set forward the work for a revised Constitution."
Work in East St. Louis
When her term on the council was over, Sister Mary Louise Utar taught at St. Teresa Academy in East St. Louis and served as executive secretary for the East St. Louis Inner City Office for the Belleville diocese. In 1971, she moved back home to Taylorville where she worked as parish coordinator at St. Mary's, her home parish, for 26 years, after which she retired to Ruma in 1997.
China, Ruma, Rome and Taylorville became homes for the woman who remained attached and aware of the world even while living in the small Midwestern towns of Taylorville and Ruma. The culture, art, and beauty of China and Rome remained part of her long life.