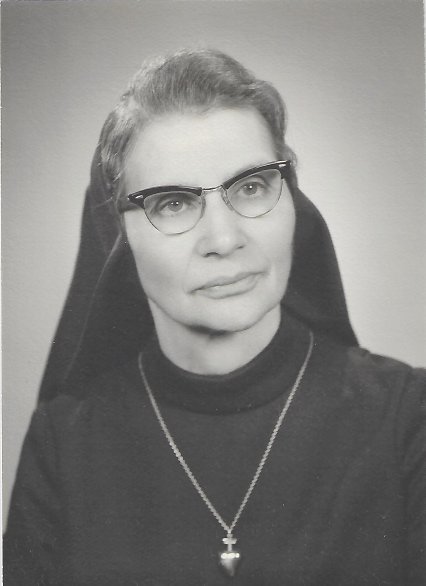 The history of Newman University was marked by significant changes during the presidency of Sister Sylvia Gorges in the 1960s. This meant a change from a small, non-accredited Catholic college for women, governed by the religious community of the Adorers of the Blood of Christ, into a co-ed college, with its own governing Board of Trustees, and fully accredited by the North Central Association.
Pursuing an Education
Sister Sylvia Gorges was born on October 7, 1912, the youngest of 13 children of Matthias and Martha Girrens Gorges. In her junior year at St. John's Academy, she followed her older sister Evelyn, and entered the community of Adorers. Her early years as a Sister were spent in continuing her education while teaching. She earned a bachelor's degree from Mount St. Scholastica College in Atchison, Kansas, and a master's degree from Creighton University in Omaha, Nebraska. She continued to pursue higher education studies in summers at Saint Louis University.
When Sister Sylvia Gorges was appointed by her religious superiors in 1961 to become president of Sacred Heart College, no one could have foreseen the changes that were to come. As Sylvia wrote in a letter to the sisters, "For me personally, this has almost been a test of faith and it took a bit longer than St. Ignatius' 15 minutes to gain composure."
Restructuring Newman University
Despite her fears, Sister Sylvia Gorges showed remarkable ability to learn quickly and to make the decisions needed for the college's survival. During the years of preparing a second application for accreditation following a negative review by North Central, she obtained the assistance of Jesuit professors from Saint Louis University in preparing the college's necessary documentation to make it a separately governed institution, with its own board of trustees, under the sponsorship of the religious community. To meet the needs for additional physical facilities on the campus, she enlisted the support of Catholic businessmen in the Wichita area who served as her advisory board and who helped complete the plans and construction of a science hall, a residence hall, and a library.
The decision to admit men to the college was a difficult one, but it served to meet a critical need in the area, as demonstrated by the numerous applications from young men beginning college on the G.I. bill, as well as others looking for a Catholic college in the Wichita area.
A Short Retirement
Accreditation from North Central Association, now known as Higher Learning Commission, was achieved in 1967, and Sylvia retired in 1971. However, not for good. In 1991, the Board of Trustees turned once again to Sylvia, asking her to serve as acting president of Kansas Newman College for six months. She must have rejoiced to see the results of her leadership which had come at a most critical time in the college's history.