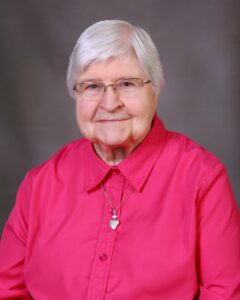 65 years as a vowed member of the Adorers of the Blood of Christ
She made her first profession on July 1, 1955 and her final vows on July 1, 1960.
Sister Mary Evelyn was born in Taylorville, Illinois, to Joseph and Margaret (Morrissey) Nagle. She studied food service at Aquinas College in Grand Rapids, Michigan, and food service management at Southern Illinois University in Edwardsville and the Management Institute at St. Scholastica Academy in Canon City, Colorado.
For almost 20 years, Sister Mary Evelyn ministered in dietary, laundry, housekeeping and cafeteria service. She worked in small convents including St. Clare in O'Fallon, St. Michael in Paderborn and St. John the Baptist in Smithton, and at such large institutions as the Ruma Center in Ruma, St. Ann Home in Chester, St. Henry Seminary in Belleville, St. Teresa Academy in East St. Louis and the Loretto Home in Alton, all in Illinois.
When the former Ruma Province began missionary work in Liberia, West Africa in the 1970s, Sister Mary Evelyn put her managerial skills to work. In Gardnersville, she organized the Legion of Mary, assisted the choir director at St. Anthony Parish, and managed Maria Catholic Clinic as well as St. Michael School. She was also the ASC Associate Coordinator and served a term as president of the Religious Superiors Conference of Liberia. In Grand Cess, she taught music to elementary students, assisted primary teachers in their classrooms and was the spiritual director for the Legion of Mary. Sister Mary Evelyn was a missionary in Liberia for more than 20 years.
When she returned to the States, she resumed her food service ministry at Nazareth Living Center in St. Louis, Missouri. She later became a home caregiver with the CSJ Home Care organization, also in St. Louis.
In addition to her community service as administrator of the Ruma Center for several years, she has been a volunteer at the center for the past 15 years.