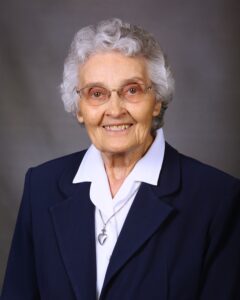 65 years as a vowed member of the Adorers of the Blood of Christ
Sister Marita made her first profession on July 1, 1955 and her final vows on July 1, 1960.
Sister Marita was born in Okarche, Oklahoma, to Franz and Gertrude Rother. She earned a bachelor's degree in education from Sacred Heart College, now Newman University, in 1962, and a master's in education administration from the University of Wichita in 1968.
Her broad experience of teaching included elementary, secondary and university levels. Elementary schools included St. Mary in David City, Nebraska; All Saints, St. Anne and St. Margaret Mary in Wichita, St. Joseph in Ost, Sacred Heart in Dodge City, all in Kansas; Corpus Christi in Oklahoma City, Holy Trinity in Okarche, both in Oklahoma. When the Archdiocese of Oklahoma needed a math teacher who could also teach algebra, Sister Marita became a traveling teacher, dividing her time among Saints Peter and Paul in Kingfisher, St. John's in Yukon and Holy Trinity in Okarche. In addition to teaching math, she was often the principal of the school. On the secondary level, she taught at Sacred Heart Academy, Madonna and Bishop Carrol high schools in Wichita; and McGuinness in Oklahoma City, Oklahoma. In addition to serving as assistant, then director, of elementary education for Newman University, she also taught an eight-week course for the university. She also was superintendent of Catholic Schools for the Diocese of Dodge City, and associate superintendent for the Archdiocese of Oklahoma City.
She was a member of the novitiate community and was responsible for mentoring high school girls who planned to become sisters.