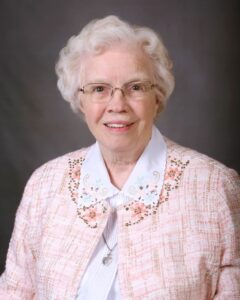 65 years as a vowed member of the Adorers of the Blood of Christ
She made her first profession on July 1, 1955 and her final vows on July 1, 1960.
Sister Jacinta was born in Teutopolis, Illinois, to George and Louise (Goeckner) Willenborg. She received a bachelor's degree in geography from Saint Louis University in 1968, and a master's degree in education administration from the University of Dayton in Dayton, Ohio, in 1992. She held certificates for religious education in the dioceses of Springfield-Cape Girardeau, Missouri; Jefferson City, Missouri; and Springfield, Illinois.
Sister Jacinta spent nearly 40 years as a full-time classroom teacher in Missouri and Illinois. For a dozen of those years, she was both teacher and principal. She ministered several years at Visitation in Vienna, Missouri, and more than 20 at Guardian Angel in Oran, Missouri. She served in the Illinois schools of Holy Family in Cahokia, St. Theresa in Salem, Immaculate Conception in Columbia, St. Augustine in Belleville, St. Michael in Sigel and St. Michael the Archangel in Radom. She then spent several years as a volunteer teacher/tutor at St. Anthony of Padua in Effingham, Illinois.
When she moved to the Ruma Center, Sister Jacinta mentored ASC Associates of the Ruma area for several years. Most recently, she has been an English language tutor for Spanish-speaking students at the Red Bud, Illinois, public school. She lives at the Ruma Center.