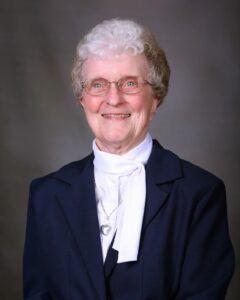 65 years as a vowed member of the Adorers of the Blood of Christ
Sister Catherine made her first profession on July 1, 1955 and her final vows on July 1, 1960.
Sister Catherine was born in Harper, Kansas, to William and Frances Schippen. She earned a bachelor's degree in education at Sacred Heart College, now Newman University, in 1962, and a master's degree, also in education, from Oklahoma State University in Stillwater, Oklahoma in 1974.
Her ministry in elementary education in Kansas included All Saints, St. Francis of Assisi, St. Jude and St. Anne, all in Wichita; St. Joseph in Ellinwood; St. Joseph in McPherson; St. Mary in Aleppo; St. Nicholas in Kinsley; Angelus in Grinnell. In Oklahoma, she taught at St. Joseph in Bison, St. Francis Xavier in Stillwater and St. Mary in Guthrie. In New Mexico, her ministry took her to St. Edward in Carlsbad and St. Helena in Hobbs. Her only mission in Missouri was Sacred Heart in Sedalia. In addition to classroom teaching, Sister Catherine often served as organist and director of the adult choir for the parish.
After almost 30 years of teaching, she served at Villa Christi Retreat House in Wichita. For several years, her ministry also included clerical services, such as secretary/receptionist at the Wichita Center and at Newman University. She ministered at Via Christi Hospital and volunteered at St. Joseph and St. Teresa Hospitals in Wichita. She continues to volunteer as communion minister at St. Teresa and Via Christi. Sister Catherine resides at the Wichita Center.