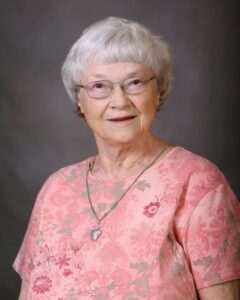 60 years as a vowed member of the Adorers of the Blood of Christ
Sister Barbara made her first profession on July 1, 1960 and her final vows on July 1, 1965.
Sister Barbara was born in Atchison, Kansas, to Blaine and Murl Borders. She earned a bachelor's degree in education and English from Sacred Heart College, now Newman University, in 1963, and a master's in English from St. Mary University in San Antonio, Texas in 1974.
As an English teacher, Sister Barbara taught at the elementary, secondary and university levels. She taught departmental Language Arts at St. Joseph in Conway Springs, Kansas, and St. Anne in Wichita, Kansas, where she also instructed the Upward Bound Reading Class.
In Okarche, Oklahoma, she taught English to both elementary and secondary school students. She taught English at the following secondary schools: Aquinas in David City, Neb.; Sacred Heart in Sedalia, Missouri; Bishop McGuinness in Oklahoma City, Oklahoma; Nolan in Fort Worth, Texas; and Hayden in Topeka, Kansas. She taught a Freshman Summer English Writing Class at St. Mary University in San Antonio.
For several years, Sister Barbara worked for Women's Initiative Network, in Wichita, before returning to education. For the past 10 years, she has served as a math and writing tutor, part-time adjunct faculty member and teacher of English at Newman University. She continues in that service today.