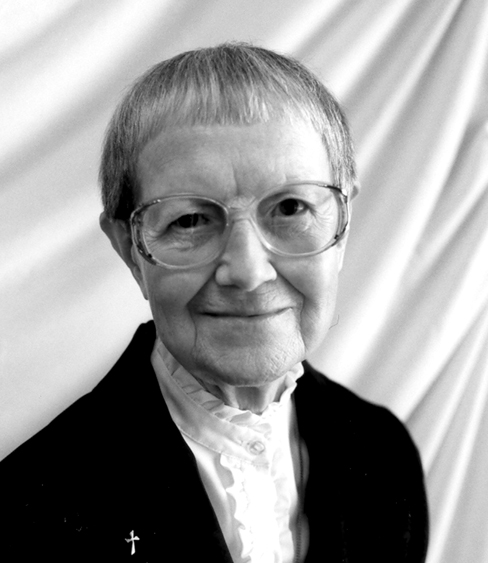 Sister Floriana Voegeli died Feb. 2, 2015 in Wichita. She was 93 and had been an Adorer of the Blood of Christ for 77 years.
She was born Feb. 5, 1921, to John and Elizabeth (Spexarth) Voegeli, the youngest girl in a family of 10 children. She was baptized Bernadine Elizabeth, the same day in St. Mark's, Kansas.
Taught by Sister Adorers at St. Mark's grade school and following two biological sisters who were ASC novices, Sister Floriana entered the community in 1936 while in high school at St. John's Academy.
Following graduation, Sister Floriana trained as a nurse in Enid, OK. She worked closely with hospital patients in Marion, KS. She then studied to be a pharmacist at Creighton University, passing Oklahoma State Boards in 1962.
She worked as a pharmacist in Carlsbad, NM. Other ministries included CCD teaching, house of prayer core member, team member at Wichita Anthony House and Acuto Center, volunteer librarian and driver. She faithfully served God's people in Arizona, New Mexico, Oklahoma, and Kansas.
She has resided at Caritas Center in Wichita since 2010 due to declining health.
Preceding her in death were her parents, her sisters Agnes, Mary Ann, Josephine and Dorothy, and her brothers Leo, Wilfrid, and Wendelin. She is survived by her brothers Francis and John, a number of nieces and nephews, and her ASC community members.
The Mass of Christian Burial was celebrated Thursday, February 5, at 10:30 a.m., in the Chapel of Our Lady of the New Covenant with Fr. Tom Welk CPPS, as presider and homilist. She is buried in the Adorers' community cemetery.
Memorial contributions in Sr. Floriana's name may be sent to 4233 Sulphur Ave., St. Louis, Mo. 63109 or made here.