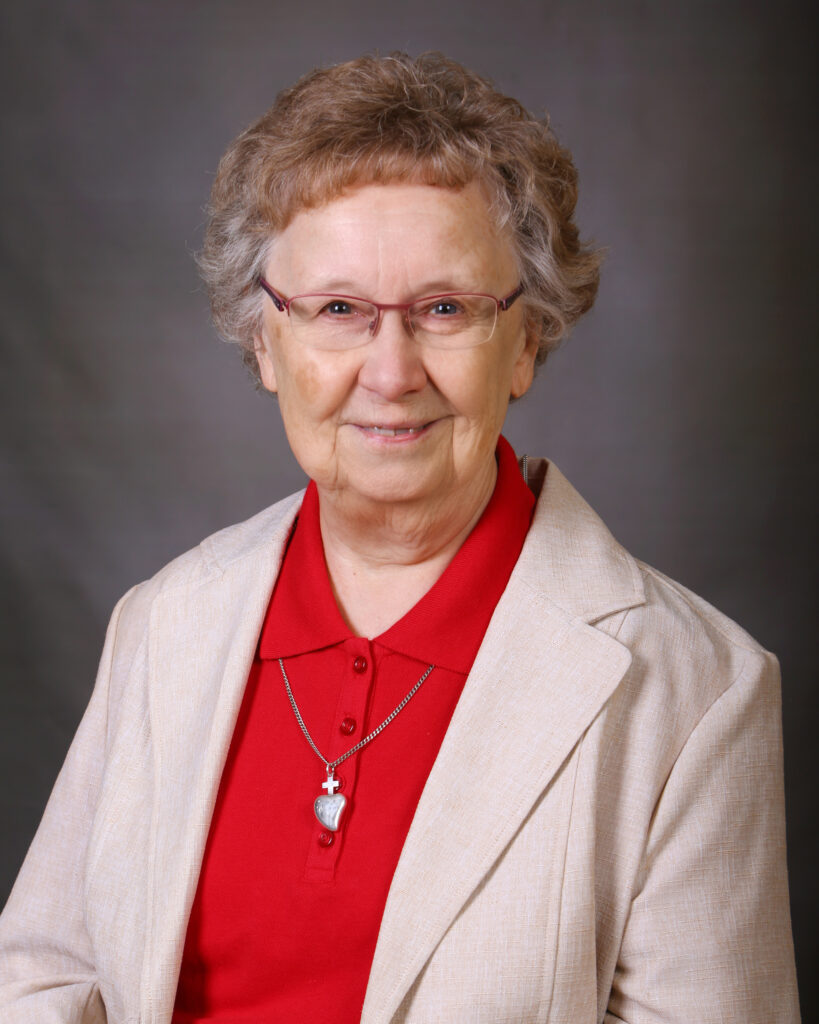 Sister Cecilia (Marie) Hellmann celebrated 70 years as a vowed member of the Adorers of the Blood of Christ (ASC) on Friday, October 7, 2022. Sr. Cecilia made her first profession on July 1, 1952 and her final vows on July 1, 1957. This year's anniversaries were celebrated at Benedictine Living Community, located on the grounds of the Shrine of Our Lady of the Snows. Bishop Michael McGovern, Bishop of Belleville, IL, presided at the Liturgy.
Sr. Cecilia was born in St. Rose, IL, to Leo and Regina Hellmann. Her family moved to Bartelso when she was in second grade. She earned her bachelor's degree in English Literature in 1966, and her master's in Education in 1974, both from Saint Louis University.
Sr. Cecilia spent more than 30 years in elementary education. She served as teacher and organist at Immaculate Conception in Centreville, St. John in Red Bud and St. Joseph in Olney. She continued to teach as well as serve as principal at SS. Peter and Paul in Waterloo and St. Augustine in Belleville. After teaching kindergarten at Maria Day Care in East St. Louis for a year, she became principal at St. Patrick School in the city. For several years, she taught secondary school part-time at Gibault in Waterloo and at Assumption and Vincent Gray, both in East St. Louis. Always an advocate to improve the lives as well as the minds of her students, Sr. Cecilia took an active role in the communities where she taught. She was instrumental in the founding of MECCO: Metro East Church-based Citizens Organization in East St. Louis and was employed there as staff. She then served as Neighborhood Organizer for Operation New Spirit.
Sr. Cecilia was chosen as one of the councilors of the former Ruma Province in 1994. When the provincial of that team was elected to the General Administration in Rome in 1999, Sr. Cecilia moved into the role of Acting Provincial for the final year of the term. From there she transitioned to Hispanic ministry, opening that office and serving as coordinator for the Belleville Diocesan Office of Hispanic Ministry for more than fifteen years.
Sister Cecilia resides in Belleville where she is Living Mission in Later Life. She continues to coordinate the ASC Junior Associate Program, an outreach to youth, which began in 2011, and she enjoys other volunteer opportunities.