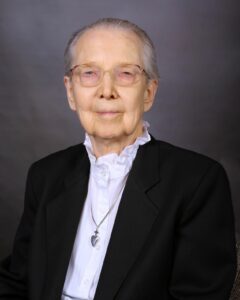 82 years as a vowed member of the Adorers of the Blood of Christ
Sister Carmelita made her first profession on August 10, 1938 and her final vows on August 10, 1943.
Sister Carmelita was born in Hutchinson, Kansas, where her family attended St. Teresa Parish. She received a bachelor's degree in mathematics from the University of Saint Mary, Leavenworth, Kansas, in 1954. She held a certificate in secondary teaching in math in the states of Kansas and Nebraska. She also honed her skills in computer technology.
Sister Carmelita taught for 50 years in elementary and high schools and at the university level. She started her teaching ministry at Holy Family in Canute, Oklahoma. In Kansas schools, she specialized in math to the upper grades at Sacred Heart in Ness City, St. Anthony in Bushton, St. Mary in Marienthal, St. Mary in Offerle, St. Nicholas in Kinsley, and St. Anne in Wichita. Her ministry in teaching math continued on the secondary level at Sacred Heart Academy, Madonna High School, Bishop Carroll High School, all in Wichita, and at Aquinas High School in David City, Nebraska.
Sister Carmelita's final years of teaching were at Newman University (formerly Sacred Heart and Kansas Newman) in Wichita. In addition to teaching math, she also staffed the computer lab in the Wichita Center for several years.
Sister Carmelita currently resides at the Wichita Center where she is Living Mission in Later Life.